When I stayed at the Banff Springs Hotel a couple months ago, I indulged one day with their Grown-Up Mac and Cheese – a pasta dish made with Boursin and lobster. It was a comforting meal and was so delicious. I've been thinking about it ever since I ate it.
I decided to give it a go, and make some Mac and Cheese tonight. I'm hoping Q will love it and that it will be a hit for school lunch.
Using this recipe as a reference, I made the pasta dish with lots of mushrooms. I ended up not putting the pasta in the oven with breadcrumbs because I wanted the dish to be creamy through and through. The addition of three different cheeses – Boursin, Cheddar and Parmesan – made the dish ooey and gooey.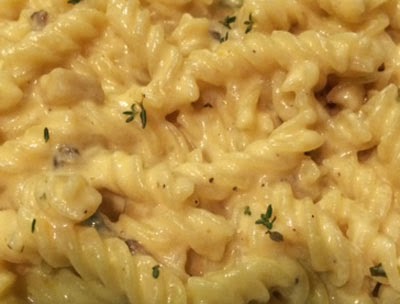 This pasta dish was definitely a splurge but oh so worth every single bite!
Three Cheese Pasta
Slightly adapted from here.
1 pound pasta
4 TB butter
1 cup mushrooms, sliced
2 TB flour
1/2 tsp salt
1/4 tsp pepper
2 cups milk
2 stalks of thyme
1 package Boursin cheese with garlic and herbs
2 cups cheddar cheese, shredded
1/2 cup parmesan cheese, shredded
Cook the pasta in boiling salted water, following package directions. Drain and set aside. In a large saucepan, melt 2 tablespoons of butter over medium-low heat. Add the mushrooms until they are cooked. Add 2 TB butter and add the flour and stir until well blended and bubbly. Add salt and pepper, and the milk. Cook, stirring, until thickened. Add the herbs, Boursin cheese, and Cheddar and Parmesan cheeses.
Cook, stirring, until cheeses have melted. Stir in the drained pasta. Indulge!
Grown-Up Mac and Cheese