When we purchased a tandoor a couple years ago, one thing we wanted to work on was a good naan recipe. It needed to be fast, it needed to be tasty and it needed to stick well to the side of the clay oven.
It's been fun trying out various versions of naan in the tandoor. Doughs with eggs that were nice and smooth were finicky in the tandoor. Doughs that I thought for sure wouldn't work well were the ones that worked the best. After a lot of trial and error, we discovered the best recipe.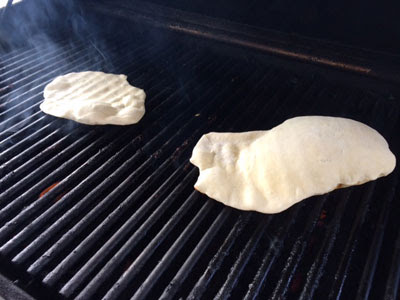 This naan recipe is very simple and doesn't need a lot of rising time. Perfect when you want to make a batch at the last minute. Don't worry, you don't need a tandoor to enjoy these. We tried these on the grill over the weekend and they turned out great!
Naan
(for the tandoor or the bbq)
1 tsp instant yeast
1/2 cup water
1 tsp sugar
1 tsp salt
2 TB oil
1/4 cup yogurt
2 cups flour
butter
In a mixer bowl, dissolve the yeast in the water along with some sugar. Let it sit for about 10 minutes until it's frothy. Add the remaining ingredients and knead the dough using the kneading hook. Place the dough in a warm place for about 20 minutes covered with a moist cloth.
Divide the dough into eight balls and roll them out. They can be done either on the tandoor or the bbq. They should only take a few minutes a side. Remove and butter the naan.