When we make cookies at our house, chocolate chip cookies are usually the go-to. They are usually everyone's favourite. It had been forever since I had made oatmeal cookies and thought this baking project would be the perfect way to start my day.
I was looking for a one-bowl recipe – the less dishes I need to dirty, the better! This recipe from Robin Hood was perfect. Everything went in the mixer and they took minutes to prepare. The cookies turned out perfect – crispy on the outside, chewy on the inside and went great with a glass of milk. The oats kind of make them filling so you're not eating as many!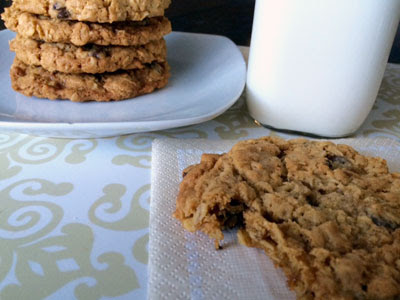 Oatmeal Chocolate Chip Cookies
From Robin Hood
3/4 cup butter
3/4 cup brown sugar
1/2 cup granulated sugar
1 egg
2 TB water
2 tsp vanilla
3/4 cup flour
3/4 tsp baking soda
2 1/2 cups oats
1 1/2 cups chocolate chips
Preheat oven to 350 degrees.
Cream first 6
ingredients together in large mixing bowl on medium speed of electric
mixer until light and creamy. Add flour and baking soda and beat on low
speed until blended. Stir in oats and chocolate chips. Drop dough by
heaping spoonfuls onto lined baking sheets.
Bake
in preheated oven for 12 to 15 minutes, or until light golden. Don't
overbake. Let cool 5 minutes and remove to wire cooling racks.