One of my favourite Korean dishes is bibimbap. Bibimbap is a dish with steamed rice topped with vegetables, meat, a runny egg and a red pepper paste sauce. Any dish topped with a runny egg is a winner in my books. The best part of this dish though (besides the name) is the sauce. It's made with gochujang, a red pepper paste with additions like garlic, soya sauce and sugar. We love this sauce so much that lately there has been a batch in the fridge to top off any meal.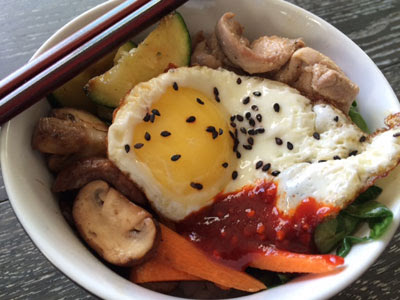 The components of bibimbap are cooked separately and placed on top of the rice. It is usually stirred together right before eating. The combination of the rice, veggies, meat, egg and sauce is tasty and comforting. This is the perfect dish to use up leftovers. Just use what protein and veggies you have and you've got dinner!
Bibimbap
Chicken:
1 pound chicken thighs
3 TB soya sauce
1.5 TB sesame oil
2 tsp crushed ginger
2 tsp crushed garlic
salt pepper
Marinate for at least an hour. Stir fry in a little bit of oil. Remove from the pan and cook your vegetables.
Veggies:
Whatever you have on hand. I used mushrooms, zucchini, carrots and bok choy
Rice:
Steamed rice.
Egg:
Sunnyside up
Bibimbap Sauce (From Food.com):
2 TB gochujang (red pepper paste)
2 garlic cloves, minced
1 TB rice vinegar
1 TB soya sauce
1 tsp sesame oil
2 tsp sugar
Mix all ingredients together.