Q's favourite cheese would have to be brie. So, when I made him responsible for a couple of appetizers at our Christmas Eve appetizer party, naturally, he wanted to make something with brie.
This brie in puff pastry is so easy to make and so delicious to eat. It is perfect for a party – the cheese oozing out of the pastry was a sight to see. It definitely was a winner!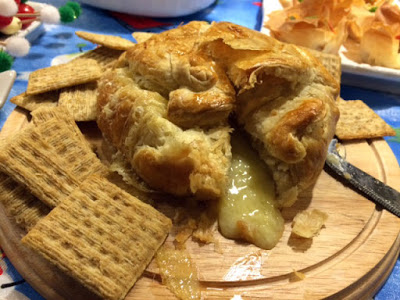 Brie in Puff Pastry
1 sheet puff pastry
1 small round brie
1 egg, beaten
Place the brie in the middle of the puff pastry. Bring the edges of the pastry up so that the cheese is nicely wrapped. Brush the egg on top off the pastry.
Bake on parchment at 425 degrees until golden, approximately 25 minutes.