If there's anything that can bring people to the table, it's a pan of brownies. Not just any brownies. Nutella brownies. These are not as dense as the 2-ingredient brownies I've made before. They are cakey and not as sweet, and totally satisfy a chocolate craving. The hazelnuts scattered on top roasted in the oven making it the perfect crunchy topping.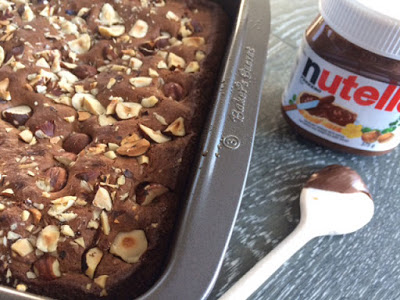 When World Kitchen sent me their Baker's Secret Easy Store 5pce Bakeware Set, I knew that this would be the perfect recipe to test out the pans. I was very impressed with the set, each nonstick pan nesting together for compact, space-saving storage. They are also dishwasher safe, always a bonus when it comes to saving time.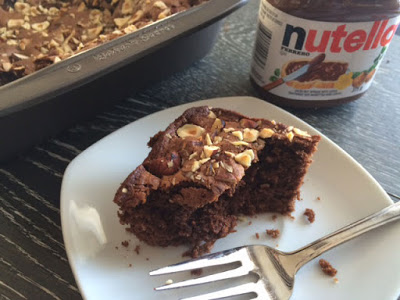 Want a chance to win an 8″ Baker's Secret Square Cake Pan and bake up your own batch of these brownies? Enter below and let me know what you'll be making! Open to residents of Canada (including Quebec). Contest closes December 10, 2015 at 11:59pm MST.
This post has been sponsored by World Kitchen and I have been compensated monetarily and with product. All opinions are my own.
Nutella Brownies
1 cup Nutella
1/2 cup brown sugar
3 eggs
2 tsp vanilla
1 cup flour
1 tsp baking pwoder
1 tsp baking soda
1/4 cup hazelnuts, chopped
In a glass bowl, heat the Nutella for approximately 30 seconds in the microwave. Add the sugar and mix well. Add eggs and vanilla until combined. Add the dry ingredients until everything is incorporated. Pour batter into an 8″ x 8″ greased pan. Top with nuts and bake at 350 degrees for 20 minutes.

2 teaspoons vanilla extract
1 cup all-purpose flour
1/4 cup cocoa powder
1 cup pecans – See more at: http://www.foodmamma.com/2012/08/fudge-brownies.html#sthash.DhFS7GyH.dpuf