With all the smoothies we have been experimenting with, one thing has been clear – Q's not a fan of the green ones. They may taste great, but the colour to him is just off putting. Z on the other hand will drink anything, he's more about the taste than the visual appeal.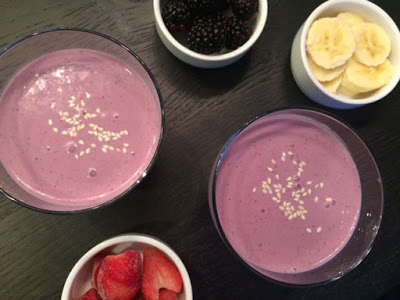 This berry banana smoothie is a hit with everyone. The blackberries and strawberries along with the banana make a great combination. The banana along with some yogurt and milk make this drink super creamy and so delicious.
Berry Banana Smoothie
1/2 cup blackberries
1/2 cup strawberries
1 banana
1/2 cup yogurt
1 cup milk
Ice
Blend until smooth.