I'm a sucker for chicken wings. The crispier and saucier, the better. They are the perfect appetizer (no cutlery!), take very little prep time and a great vehicle for some tasty sauce.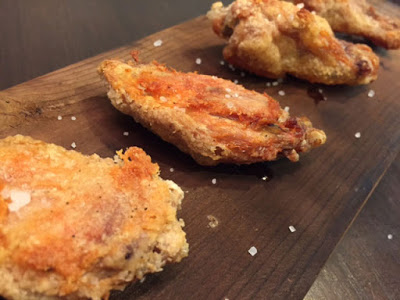 For anyone who tries these crispy wings, they won't even
know that they are baked! They are super easy to prepare, just throw a few things together and throw them in the oven. Place wings in a bowl, add some corn starch, salt and pepper until the wings are coated. Place on a greased cookie sheet and then spray with some cooking spray. Cook at 375 degrees until cooked. For about ten wings, I added a couple tablespoons of corn starch. The wings baked for approximately 45 minutes.
Once the wings are done, sprinkle some salt and eat as is or toss them in your favourite sauce. Gochujang are Q's favourite so I tossed the wings in some bibimbap sauce – so so good!