I have a new helper in the kitchen. The little guy is always eager to see what's cooking and to help out in any way possible. Z is 21 months and lately, when he thinks I'll be doing something in the stand mixer, he pulls the chair to the counter, ready with measuring cups so that he can pour things in.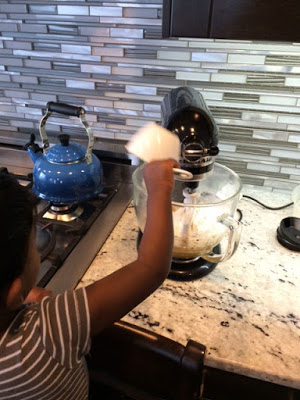 This morning we made banana bread, using up ripe bananas that we wanted to put to good use. We loaded up the batter with pecans, chocolate chips and coconut. The resulting bread was moist and full of character. We cut into it while it was still hot, it was too hard to resist!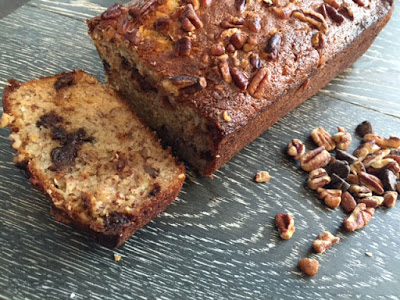 Chocolate Chip, Coconut, Pecan Banana Bread
1/2 cup margarine, softened
1 cup sugar
2 eggs
1 tsp vanilla
1.5 cups flour
1 tsp baking soda
1/2 cup sour cream
2 bananas, mashed
1/2 cup chocolate chips
1/2 cup pecans
1/2 cup flaked coconut
Cream margarine and sugar together. Once combined, add eggs and vanilla. Next, mix in the dry ingredients – flour and baking soda. Add the mashed bananas, sour cream along with the chocolate chips, pecans and coconut.
Add the batter to a loaf pan and bake at 350 degrees for one hour.