We have been enjoying our daily smoothies and I have been having fun coming up with some tasty combinations. Today was a good one and I could not wait to share.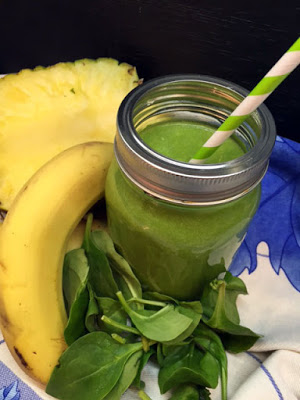 The spinach smoothies haven't been a favourite for the boys…until today. Today, they wanted more! That is a huge win. The greens combined with the tropical flavours of pineapple, banana and coconut worked really well together. The pineapple added the sweetness and the banana and coconut milk the creaminess. The coconut milk also made it dairy free so even hubby could enjoy it.
This tropical concoction will allow you to escape to somewhere warm, even if just for a minute.
Green Tropical Smoothie
1/2 cup pineapple, cubed
1 banana
1/2 cup spinach
1/3 cup coconut milk
1/2 cup water
ice
Place all the ingredients and blend until smooth.