One of everyone's favourite appetizers is a jalapeno popper. Jalapenos filled with cream cheese, coated in a bread crumb mixture and deep fried. Yummy! I thought that this combo would be great for a Superbowl party, but in dip form. Every sports party has to have a great dip and this one fits the bill!
This warm dip is creamy and cheesy with the perfect amount of crunch from the panko topping and heat from the jalapenos. It is perfect for serving with crackers or crostini.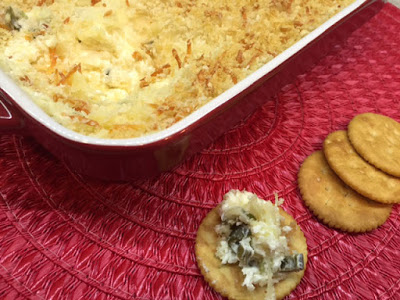 Jalapeno Popper Dip
1 block cream cheese, softened
1/2 cup mozzarella
1/2 cup parmesan cheese
125mL can jalapenos
1 cup panko
1/2 cup parmesan cheese
2 TB olive oil
In a bowl, combine the cream cheese, mozzarella and parmesan cheese until well combined. Add the jalapenos and mix well. Put into an oven safe dish. In a separate bowl, combine the panko, parmesan cheese and olive oil. Sprinkle the breadcrumb mixture on top of the cheese. Bake at 375 degrees for 15 – 20 minutes. Enjoy with crackers or bread.