January is here and we are back to school and back to routine. I try and stay away from resolutions, they always seem short-lived. There is something that needed implementing around here though, and the new year seems like the best place to start. Although we eat fruits and vegetables, I really needed us to have more. Keeping plates of cut fruits and veggies out has helped. No one can resist snacking if it's right there, ready and waiting. Salads are an easy way to add veggies but they can become boring. Smoothies seem like the best way to add a whole whack of nutrients, changing it up everyday so that there is variety.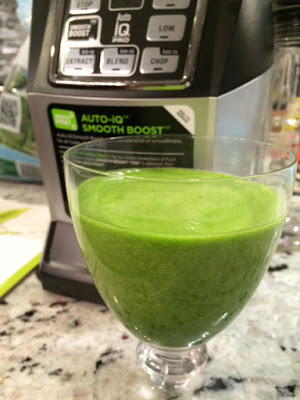 To help with this goal, the folks at Ninja sent me their Nutri Ninja Auto-IQ Compact System. If I could choose one word to describe this machine, it would be power. I loved watching it break down spinach and grind ice into a smooth refreshing drink. With this Ninja, you have a nutrient and vitamin extractor as well as a high performance blender – it pulverizes any vegetable or seed. On top of all that, it comes with a Blend and Prep bowl, making this powerful blender into a full food processor. Hubby's quite happy about this fact, hoping to get rid of a few of my appliances.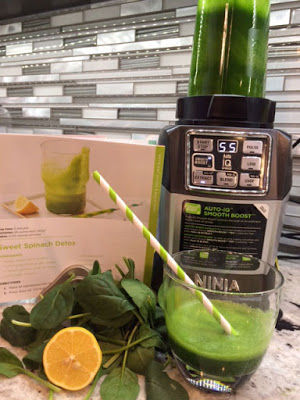 I loved this recipe for a refreshing green smoothie. With apples, lemon and ginger, along with a big helping of spinach, this drink was pretty delicious. I never thought I'd say that about a spinach smoothie! Watch for more smoothie recipes over the next couple of weeks and check out this board on Pinterest for inspiration.
Disclaimer – I was sent a Nutri Ninja Auto-IQ Compact System to try out and keep. All opinions are my own.
Sweet Spinach Detox
From Ninja
1 green apple, cut in 2-inch chunks
1/2-inch piece fresh ginger, peeled
1/4 lemon, peeled, seeds removed
1/2 cup baby spinach
1/2 cup apple juice
1/2 cup water
1 tablespoon honey
1/2 cup ice
Place all ingredients into the 24-ounce Tritan Nutri Ninja in the order listed.
Select Auto-IQ™ BLEND.