It has been an amazing April so far while we have enjoyed an early summer. In fact, we broke a 100 year old record yesterday with temperatures climbing to 28 degrees! Needless to say, most people were outside, enjoying the patios or having drinks on their decks. While we bbq'd up some jerk chicken and lamb chops, we enjoyed this refreshing drink – strawberry burst!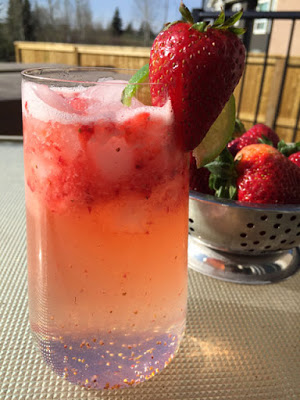 This is the perfect drink to cool off on a hot day and great for parties. It's nice to have some fun drinks for those that don't drink alcohol or for the responsible DDs.
Fill your glass with ice and Sprite, or your favourite lemon-lime soda, add 3 TB of crushed strawberries and a squeeze of lime. Cheers!