It's been a year since we have moved into our new place and this year, I was determined to have a garden. Hubby built me a box and we thought we would try our hand at growing our own food. What started out as a couple things ended up into a dozen. We planted kale, butter lettuce, tomatoes, herbs, zucchini, onions, carrots and fruit. We were thrilled when we started to see things grow and our sparse box turned into a lush garden.
There's nothing like eating from your own garden. It's fresh and so rewarding to be eating something to you have grown yourself. The butter lettuce has been a big success, the leaves growing big and full. There's only so much salad you can eat though and so we have been using the lettuce as wraps.
These beef and mushroom wraps were a hit, with no leftovers. Adding the Korean pepper sauce, Gochujang, made Q happy since he can't seem to get enough of it. The beef fulfilled everyone's protein requirement and wrapping it in lettuce made us feel so great, eating a filling and healthy meal.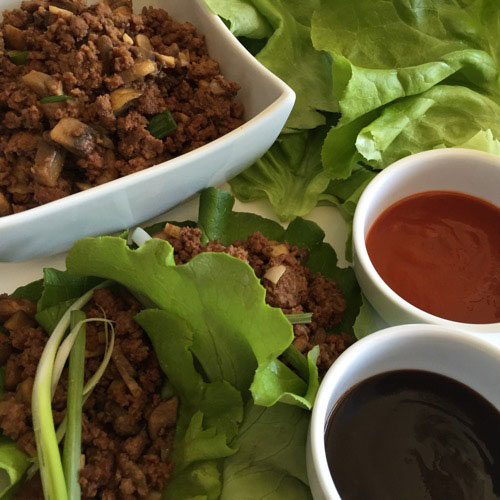 I'm happy to be participating in another Canadian Food Creatives Collaboration. This month's theme is Fresh from the Garden and is hosted by Cassie of Crumb Kitchen. Check out all the fresh recipes and see this recipe below.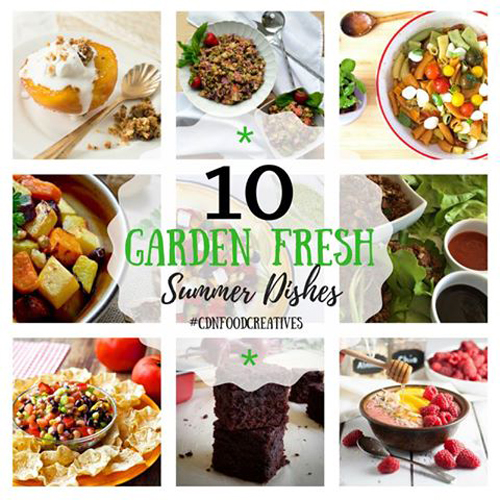 Beef and Mushroom Lettuce Wraps by Food Mamma
Caramelized Peaches with Coconut Whipped Cream and Crumble by Crumb Kitchen
Easy Sheet Pan Oven-Roasted Root Vegetables by She Loves Biscotti
Grilled Zucchini Greek Salad by Making Healthy Choices
Mexican Bean Salsa by 365 Days of Easy Recipes
Potatoes with Green Onion and Dill by Homemade & Yummy
Roasted Beet Chocolate Brownies by Tiny Sweet Tooth
Roasted Veggie Bocconcini Pasta Salad by Sugarlovespices
Strawberry Mint Chickpea Salad by Healthy Life Redesign
Beef and Mushroom Lettuce Wraps
1 lb ground beef
200 grams white mushrooms, chopped
2 cloves garlic, minced
1/2 cup hoisin sauce
2 TB gochujang
2 green onions, sliced
butter lettuce
green onions
Cook the ground beef and mushrooms until the mushrooms are tender and the ground beef is cooked. Add the garlic and the sauces and let cook for ten minutes. Finish with the green onions.
Wrap the beef mixture in the lettuce, top with more green onions and serve with hoisin sauce and Sriracha.