The best part of summer is the gatherings with friends. Barbecues and potlucks and beach picnics, the great weather is always a great excuse to get together.
Here's an easy dish for your next potluck. Pasta salad seems to be a staple at most parties but kick it up a notch with a Mexican flair. Use your favourite pasta and toss it with whatever veggies you have on hand. The salad is tied together with a dressing made with sour cream and taco seasoning. Easy peasy and super tasty!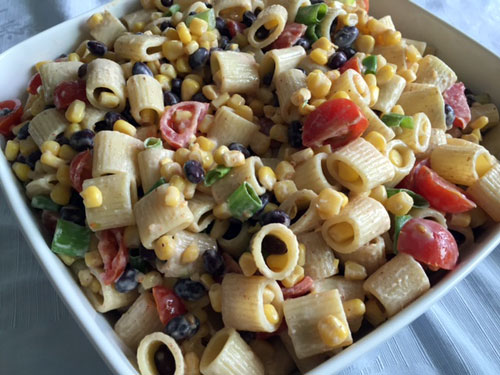 Mexican Pasta Salad
1 lb pasta, cooked
1 can black beans, rinsed
2 cans corn
1 pint cherry tomatoes, quartered
3 green onions, chopped
1/2 cup sour cream
1 TB taco seasoning
Combine the the pasta with the vegetables. In a bowl, combine the sour cream with the taco seasoning. Toss with the pasta mixture. Serve cold.