Shrimp curry in 15 minutes with items from your pantry? Yes please! Life is busy, so sometimes it's not always ideal to run to the grocery store to get fresh ingredients to make dinner. Having spices, canned tomatoes and fried onions on hand makes it easy to whip up something quick and delicious. Since shrimp is easy to thaw and quick to cook, it's a staple in my freezer.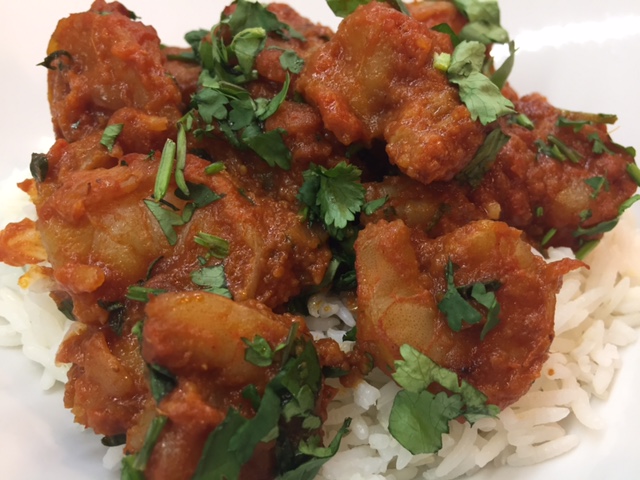 This is a quick way to make a tasty curry. I combine the tomatoes and spices together in a bowl and add the whole mixture to a hot pan. Add in some shrimp and you have a hot meal without calling for take out.
15 minute shrimp curry (video)
Ingredients
1/2 cup crushed tomatoes
3 TB fried onions
1 tsp garlic paste
1 tsp ginger paste
salt
1/2 tsp coriander powder
1/2 tsp cumin powder
pinch of turmeric
1 TB lemon juice
1 TB tomato paste
1 pound shrimp, shelled and deveined
1/2 cup water
cilantro
Instructions
In a bowl, combine the tomatoes, onions and spices and mix.
Heat some oil in a pan and add the tomato mixture.
Cook the mixture for a few minutes.
Add the shrimp and let it cook for a few minutes.
When the shrimp start turning pink, add the water.
Continue to cook until the shrimp are fully done.
Sprinkle with cilantro and serve.
7.8.1.2
9
https://foodmamma.com/2017/01/15-minute-shrimp-curry-video/