It's Superbowl weekend! A time for sports for some or just hanging out with friends for others. At any case, it's a great reason for a party. Naturally, you're going to want something flavourful and delicious to eat! These Banh Mi Sliders are perfect to add to your party menu!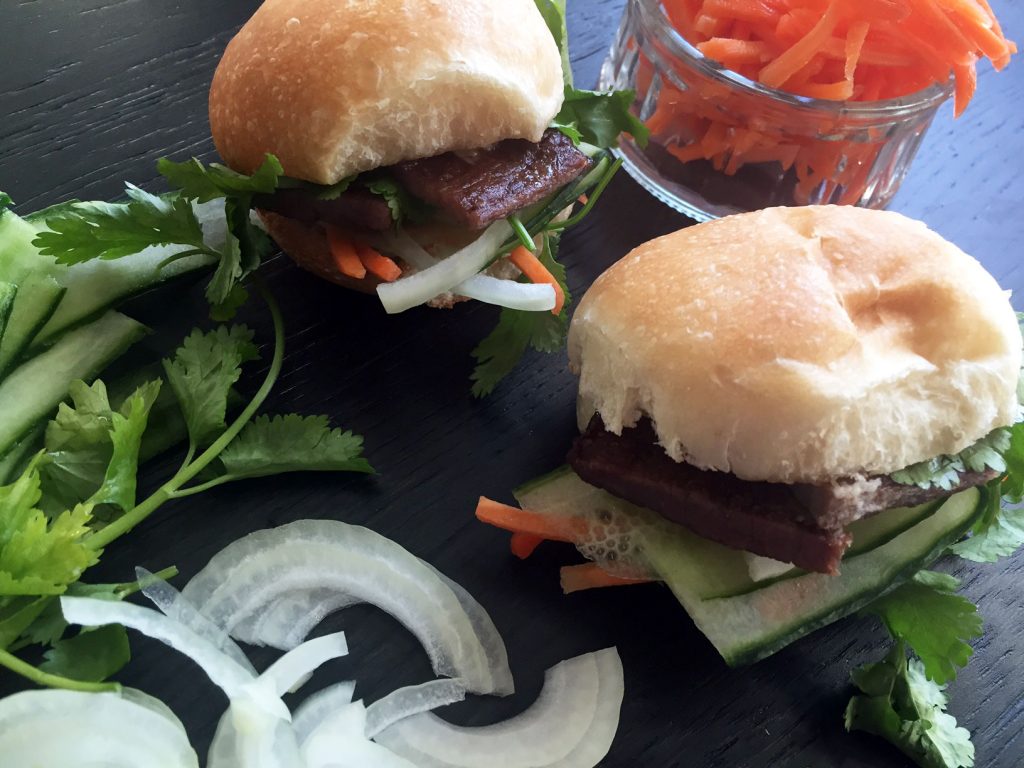 Banh Mi, aka known as Vietnamese subs, are one of my favourite things! Flavourful meat, with pickled carrots, cucumbers and onions on a crusty roll, the sandwiches are too good to resist.
When thinking of party food, mini things always come to mind, so sliders seemed like the perfect thing. I wanted the meat to be full of flavour so that I wouldn't need to add a sauce, making it a little less messy to eat. I wanted to avoid adding cheese, so as to make the sandwich readily accessible to everyone, including the lactose sufferers.  Instead, I smeared mayo on the buns and toasted them in the oven until the spread became golden and bubbly.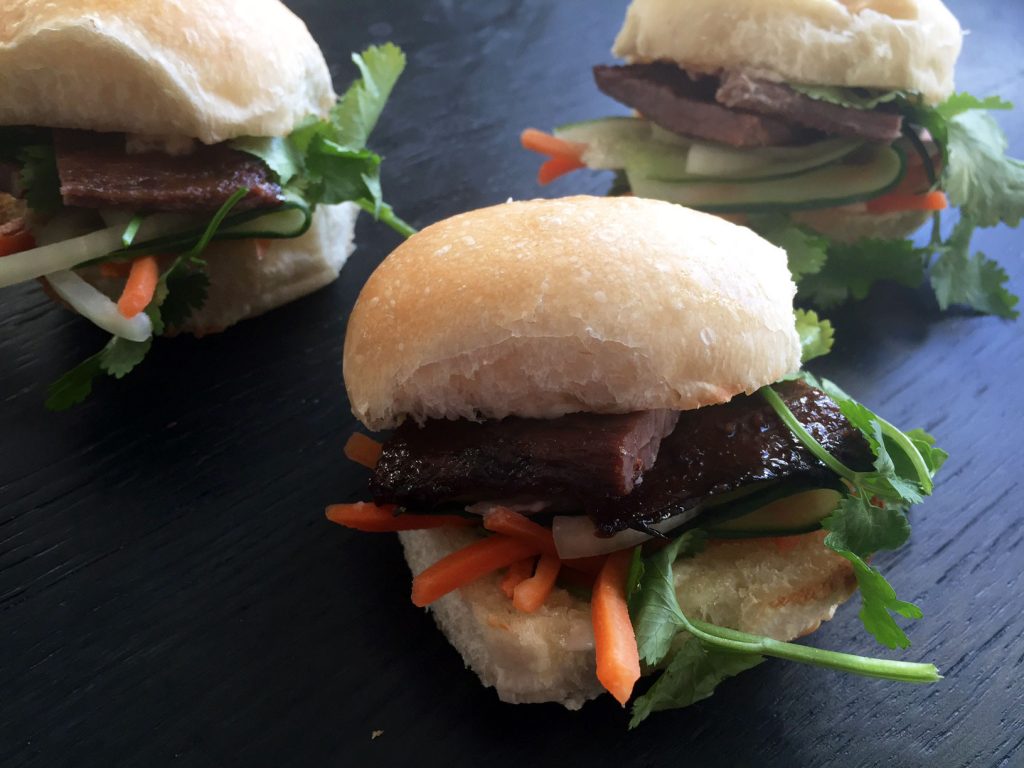 These sliders are finished off with shortcut pickled carrots, crisp onions, thinly sliced cucumbers and fragrant cilantro. These are the perfect party bite!
Ingredients
beef (see below)
1 cup pickled carrots (see below)
1 cucumber, thinly sliced
1 onion, sliced
Mayo
Cilantro
Slider buns

Beef:

1 pound beef rouladen
1/4 cup soya sauce
1/8 cup fish sauce
1 TB garlic
1/2 TB sesame oil
1 tsp sriracha
2 TB sugar
2 TB hoisin sauce

Pickled Carrots:

1 cup matchstick carrots
1 TB rice wine vinegar
1 TB sugar
4 TB water
Instructions
In a bowl, mix the marinade ingredients and add the beef. Let marinate overnight.
Mix the sugar, vinegar and water in a bowl and add the carrots. Let stand for 30 minutes and drain.
Grill the beef until cooked.
Spread the mayo on the slider buns and toast until the mayo is golden and bubbly. Add the beef and veggies and enjoy!
7.8.1.2
10
https://foodmamma.com/2017/02/banh-mi-sliders/