Happy New Year friends! We are already over a week in, how are those resolutions going? If you're looking for a snack that you don't need to feel guilty about, this is it. This chia and quinoa granola is my new favourite thing.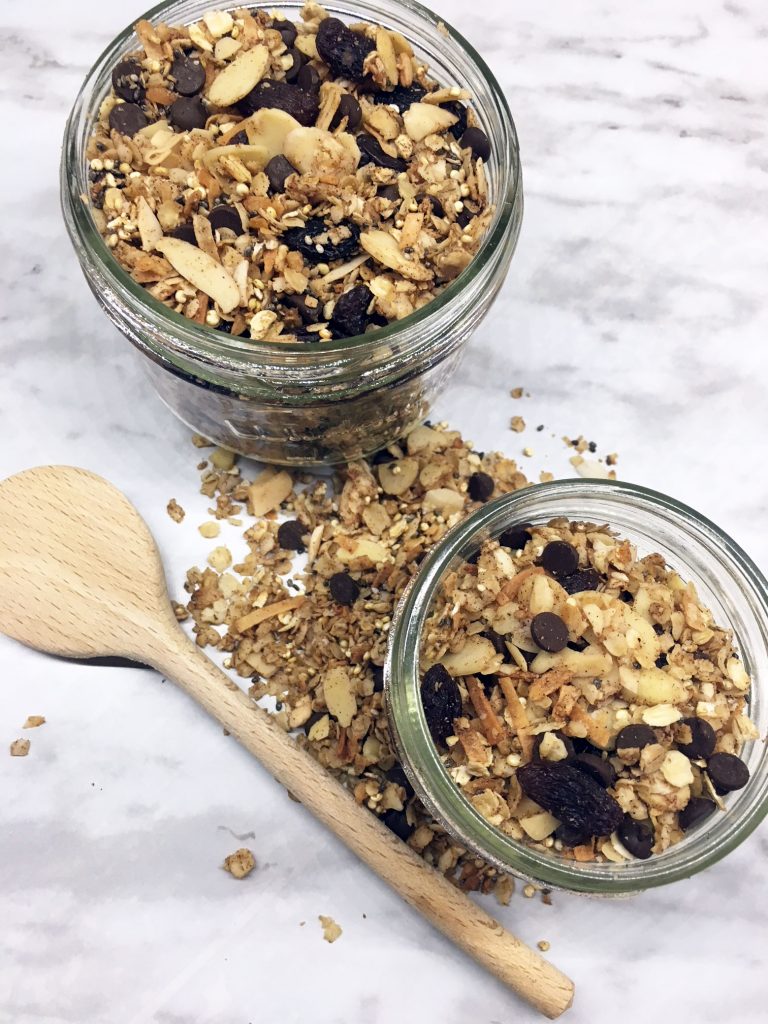 It's amazing what the addition of chia seeds and quinoa can do for granola. Not only does it provide so much extra nutrition, it adds a different kind of texture and bite. I had to add coconut because toasted coconut adds so much flavour. I decided to use sliced almonds rather than whole because I like that light crunch it provides. The cinnamon and maple syrup just take it over the top, making this granola oh so good.
I am picky as to what dishes I add raisins too. I'm also picky about my raisins. They have to be the dark plump ones. I am not a fan of the golden ones. Since this granola is full of so much goodness, I figured a small dose of chocolate was needed. It does make people happy, right?
This is perfect as a snack and delicious over yogurt.
Ingredients
1 1/2 cups rolled oats
1/4 cup chia seeds
1/4 cup quinoa
1 cup sliced almonds
1/2 cup shredded coconut
1 tsp cinnamon
1/2 tsp salt
3 TB coconut oil
4 TB maple syrup
1/3 cup raisins
1/3 cup mini chocolate chips
Instructions
In a large bowl, combine all the ingredients except for the raisins and chocolate chips.
Spread onto a sheet pan and bake at 350 degrees for 20 minutes.
Let the granola cool and then add the raisins and chocolate chips.
Store in an air tight container.
7.8.1.2
41
https://foodmamma.com/2018/01/chia-quinoa-granola/