We make these cheesy chicken enchiladas with leftover rotisserie chicken.  Makes an easy and tasty dinner that everyone loves.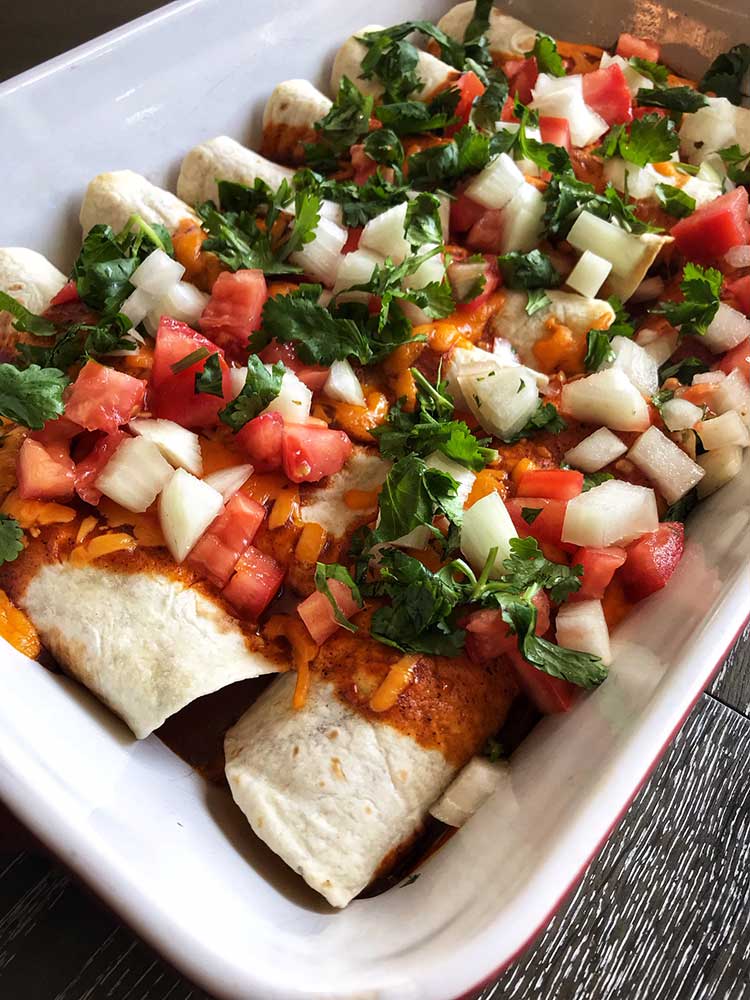 Around here, rotisserie chicken goes a long way. We eat it for one meal but leftovers are used the next day for a different meal and then the bones are used to make stock. Nothing gets wasted. We use the leftovers in sandwiches, pasta, salads and these enchiladas.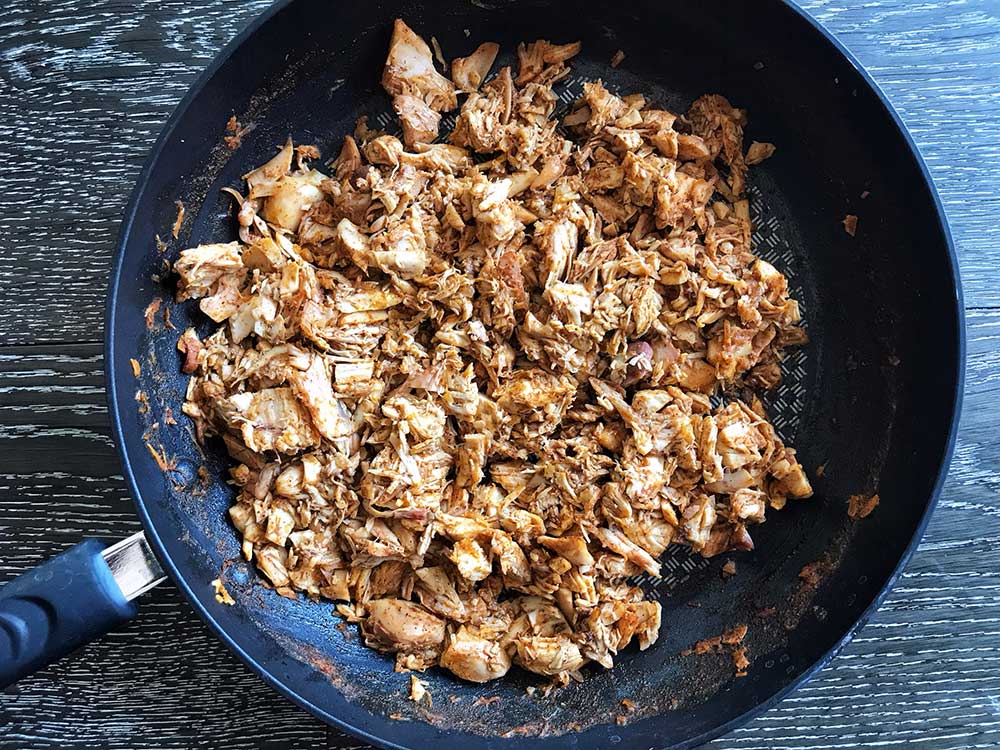 It doesn't take much to prepare this delicious meal. I just cook up the chicken in some Mexican spices. I always have taco seasoning around so just use that. The chicken is easily full of flavour.  I have used both corn and flour tortillas – both work. Just warm them up a bit before you fill so that they are easy to roll.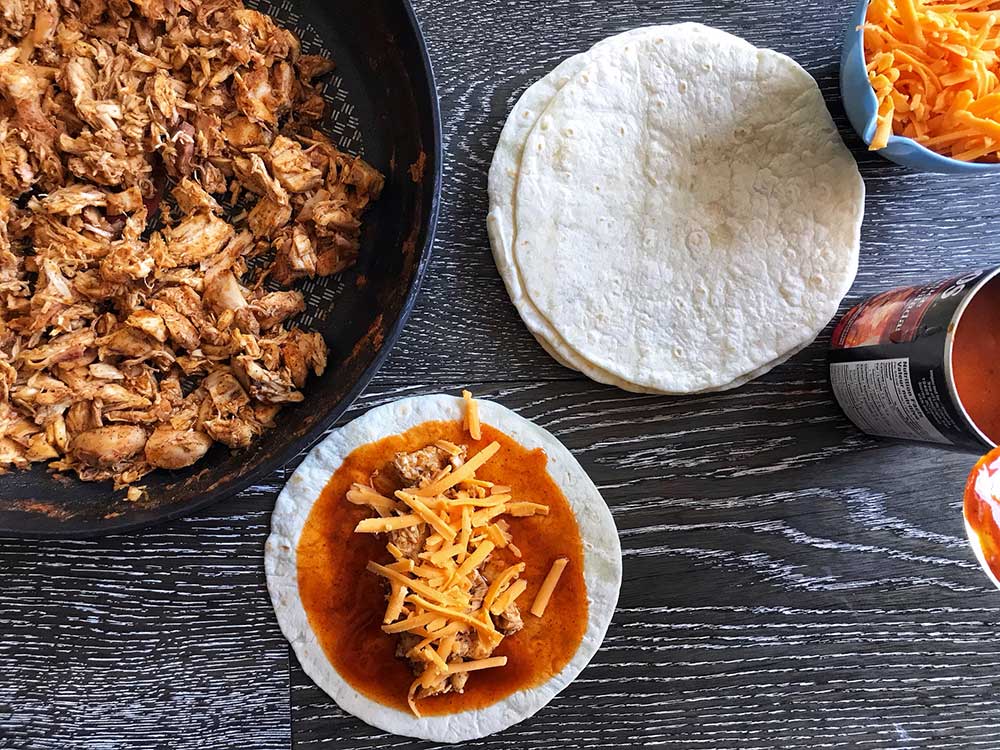 I put a spoonful of red enchilada sauce on the tortilla, add some chicken and then top with cheddar cheese. Just roll it up and place in a greased 9″ x 11″ dish. Pour the remaining sauce over the rolls and add some more cheese. Twenty minutes in the oven and dinner is ready.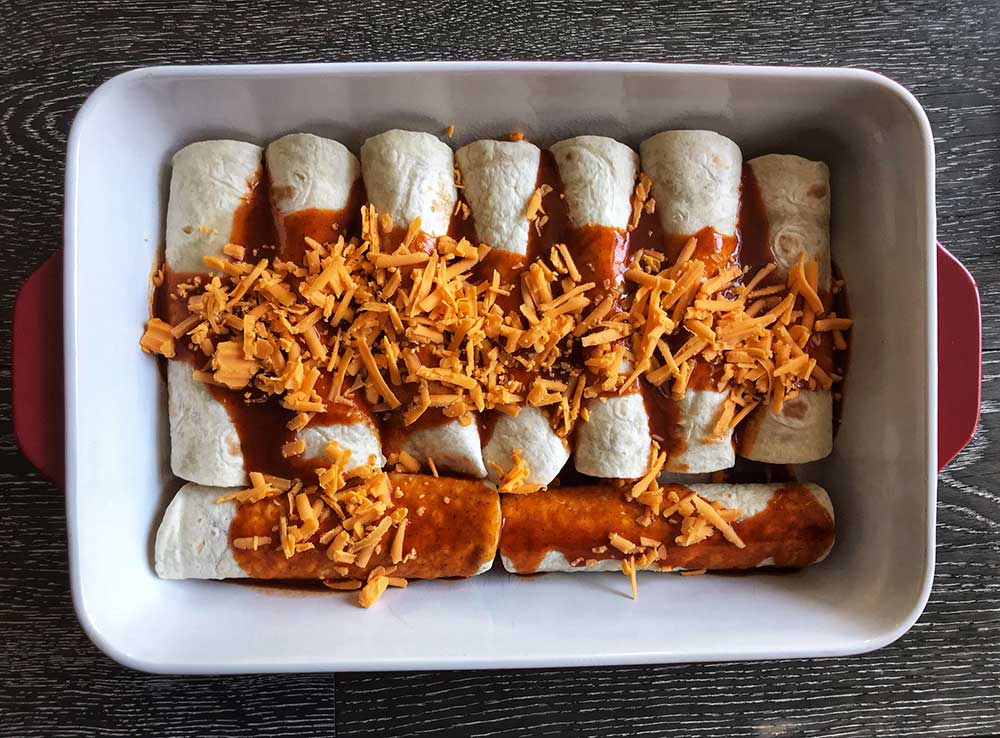 We top our enchiladas with sour cream, guacamole, tomatoes, onions, cilantro and sometimes jalapenos. This dish is always well received and there's never any leftovers.
Ingredients
3 cups cooked shredded chicken
2 TB taco seasoning
1 cup water
9-10 medium flour tortillas
3 cups shredded cheddar cheese
1 284mL can red enchilada sauce
tomatoes, onions, cilantro, jalapenos, sour cream, guacamole for toppings
Instructions
In a pan, put the cooked chicken with the seasoning and water. Cook until the water has cooked down.
Warm up the tortillas and spread a spoonful of the enchilada sauce all over it.
Add chicken and cheese and roll.
Place seam side down in a greased 9" x 13" glass dish.
Top rolls with remaining sauce and cheese.
Bake for 20 minutes.
Top and enjoy.
7.8.1.2
90
https://foodmamma.com/2019/04/chicken-enchiladas/
Rotisserie Chicken
Use up your leftovers by making this or the following dishes:
Pin Me!