This one pan meal of beef chorizo hash combines flavourful beef with sweet potatoes and runny eggs for the perfect breakfast or dinner.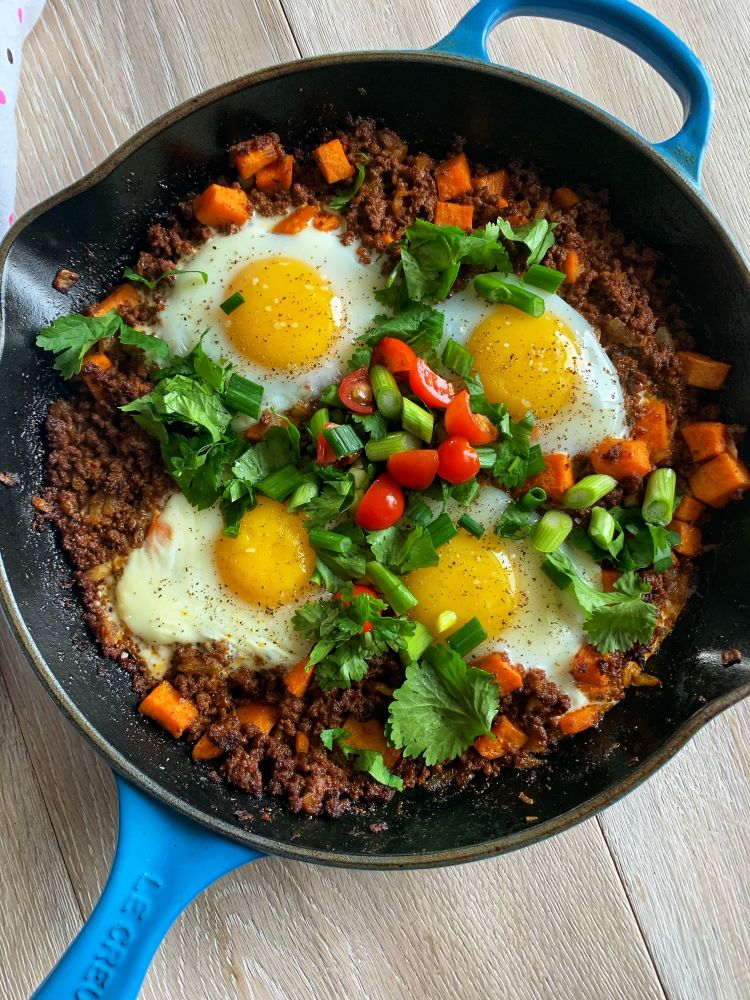 Disclaimer – This is a sponsored post. All thoughts and ideas are my own.
It's always fun to come up with new ways to enjoy beef. This beef loving family definitely can't get enough. Here is the newest way we love to enjoy beef.
Breakfast for dinner is one of my favourite things. Sure, eggs are great but if it's for dinner, and you need something heartier, a hash is the way to go. The combination of ground beef, potatoes and eggs makes it a filling, healthy meal.
For my kids, the beef made this meal. This dish is full of flavour with the beef chorizo. I don't make it spicy, so that it can be enjoyed by everyone. It's easy to add spice on top in the form or hot sauce or chili flakes. The flavour is where it's at. I use dried New Mexico and ancho chilis for the paste, both of which are flavourful and not spicy. The drying process for chilis intensifies the flavours, you just need to add some hot water to rehydrate them.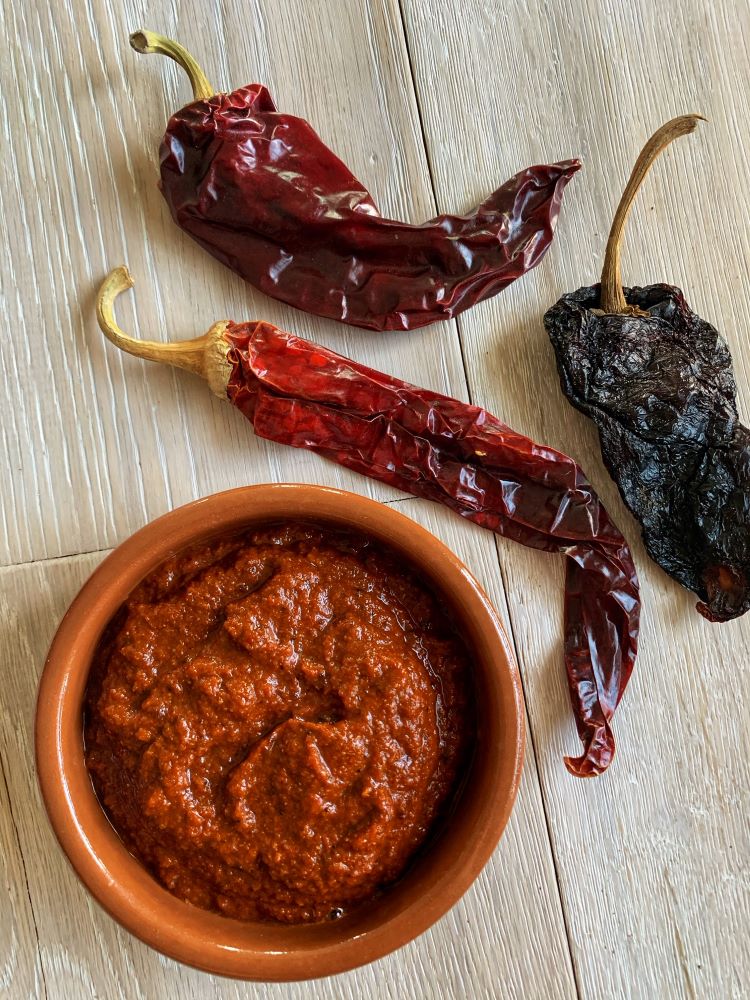 The rehydrated chilis are combined with spices and garlic to make a deep red paste which you mix in with the ground beef. The paste is bold with depth and adds a lot to the ground beef.
You only need 1 pound of the beef for the hash but I always double the recipe. The beef freezes well so you can have some on hand for another time you want this tasty dish.
It may look like a lot of ingredients but this dish is very easy to make. Heat some oil and cook the sweet potatoes, onions and garlic until softened. Be sure to cook the sweet potatoes until they are cooked; no one wants to eat hard potatoes! Once these are cooked, add the beef until it is cooked through. The smell of this when cooking is ridiculously good.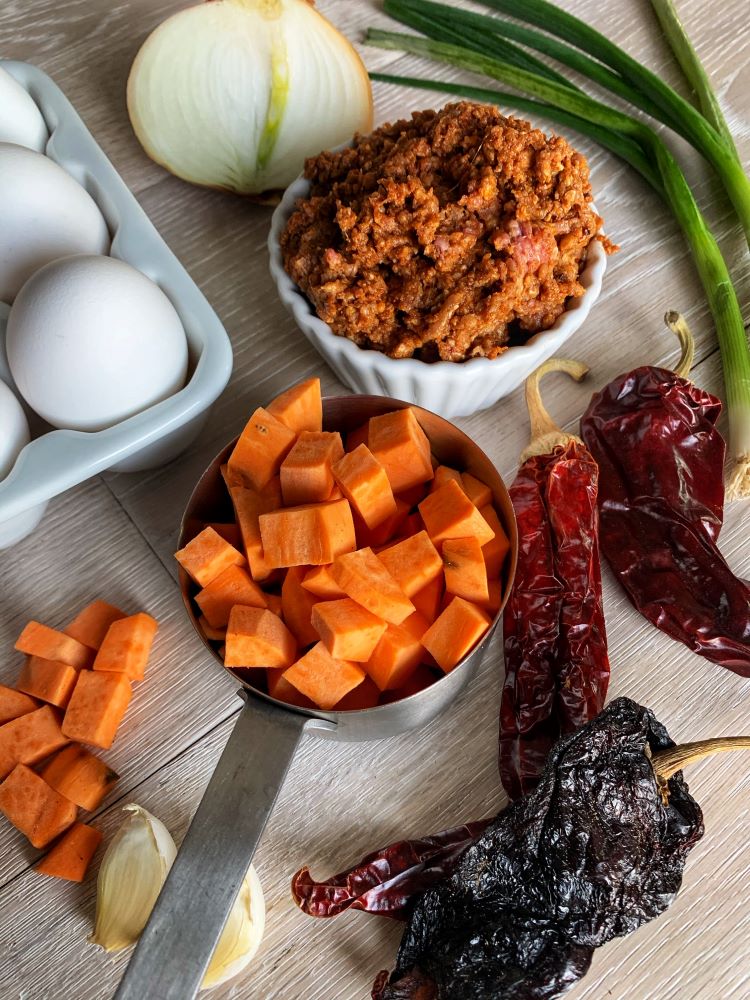 Once the beef is cooked, crack the eggs on top. I like egg whites cooked with a runny yolk which takes about 15 to 20 minutes in a 400 degree oven. This can be modified on your preference.
I love to top cooked items with some fresh ingredients. Cilantro, green onions and tomatoes all make a great addition to the hash.
The One & Only Beef
To see how others have demonstrated that beef is irreplaceable in their beef dishes, go to The One & Only Beef recipe collection – https://thinkbeef.ca/category/recipes/the-one-only-beef/ . Two of my recipes are featured there (as adapted by ThinkBeef) https://thinkbeef.ca/category/recipes/. Want to see what's REAL about beef? Check out recipes, spoof videos and more at https://thinkbeef.ca/real/
Ingredients
2 lbs lean ground Canada Beef
1 dried New Mexico chili
2 dried ancho chilis
2 tsp cumin
2 tsp coriander
2 tsp paprika
2 tsp salt
1 tsp oregano
2 cloves garlic
1 small onion or ½ large onion
¼ cup lemon juice
¼ cup water
1 cup sweet potatoes, cut into cubes
1 small onion, chopped
2 cloves garlic, minced
4 eggs
cilantro, green onions, tomatoes for garnish
Instructions
Place the peppers in a glass bowl and cover with boiling water. Let the peppers sit for 15 minutes until soft.
Once softened, cut off the stems and place in a blender along with the spices, garlic, onion, lemon juice and water.
Blend until it becomes a paste.
Mix the paste with the ground beef until well combined.
Heat oil in a pan.
Cook the sweet potatoes, onions and garlic until the potatoes soften.
Push the veggies to the side and add half the ground beef to the center and cook through. Mix well.
Crack the eggs on top of the beef mixture.
Cook in a 400 degree oven until the egg is cooked per your preference.
For cooked whites and runny yolks, cook for 15 to 20 minutes.
Garnish with cilantro, green onions and tomatoes.
7.8.1.2
119
https://foodmamma.com/2020/03/beef-chorizo-hash/
Peppered Beef Sandwich Meat
Check out my other recipe which is part of The One & Only Beef campaign here.