Doritos-crusted chicken strips are coated with your favourite tortilla chips and baked until crispy.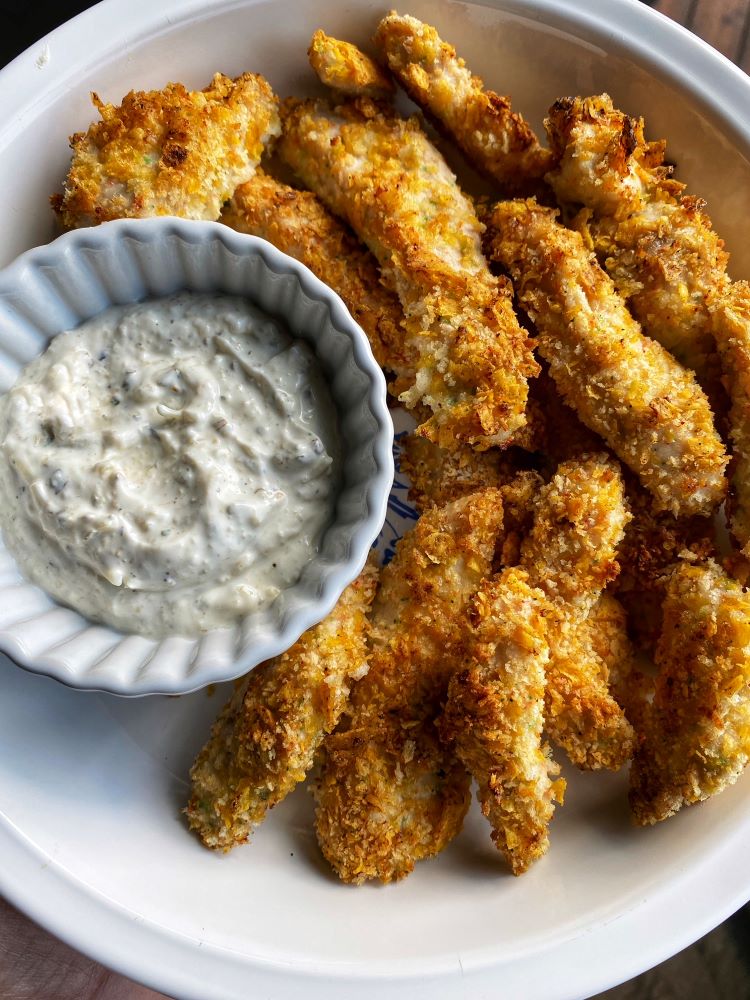 I don't know about you, but in our house, we get excited about a bag of chips but never actually end up finishing the bag. We satisfy our craving and don't feel the need to eat the rest. I suppose that's a good thing but I hate the wasting. This recipe is a great way to use up the chips you don't eat.
Doritos-crusted chicken strips are super easy to make and you can have dinner on the table in under 30 minutes. Any flavour of Doritos will do, they are all so good! Cool Ranch was used for this picture. The coating is a mix of the chips and panko, to ensure you get a nice crispy crust.
The therapeutic part of this recipe is adding the Doritos to a zippered bag and crushing them with a rolling pin. Definitely a great way to get out all your frustrations!
Get your kids involved with making these chicken strips. They can easily beat the eggs as well as help with coating the chicken in the egg mixture and the panko mixture. Any kind of hand they play in making dinner gives them such a great sense of accomplishment.
These chicken strips are perfect served with fries or a salad. Dinner in under 30 minutes is always a good thing.
Dorito-Crusted Chicken Strips
Ingredients
3 chicken breasts, cut into strips
2 eggs
1/4 cup milk
1/4 bag Doritos, crushed
1 cup panko
salt
pepper
Instructions
Slice the chicken breast into strips.
Combine the eggs and milk with salt and pepper in one bowl.
In another bowl, combine the crushed Doritos with panko.
Put each chicken strip into the egg mixture and then the Dorito mixture and place on a greased baking sheet.
Bake at 400 degrees for 18-20 minutes.
Enjoy with your favourite dip.
7.8.1.2
175
https://foodmamma.com/2021/07/dorito-crusted-chicken-strips/