The newest pancake fave around here – cinnamon swirl pancakes! Cinnamon bun filling coiled into a simple pancake batter – makes for a very delicious breakfast.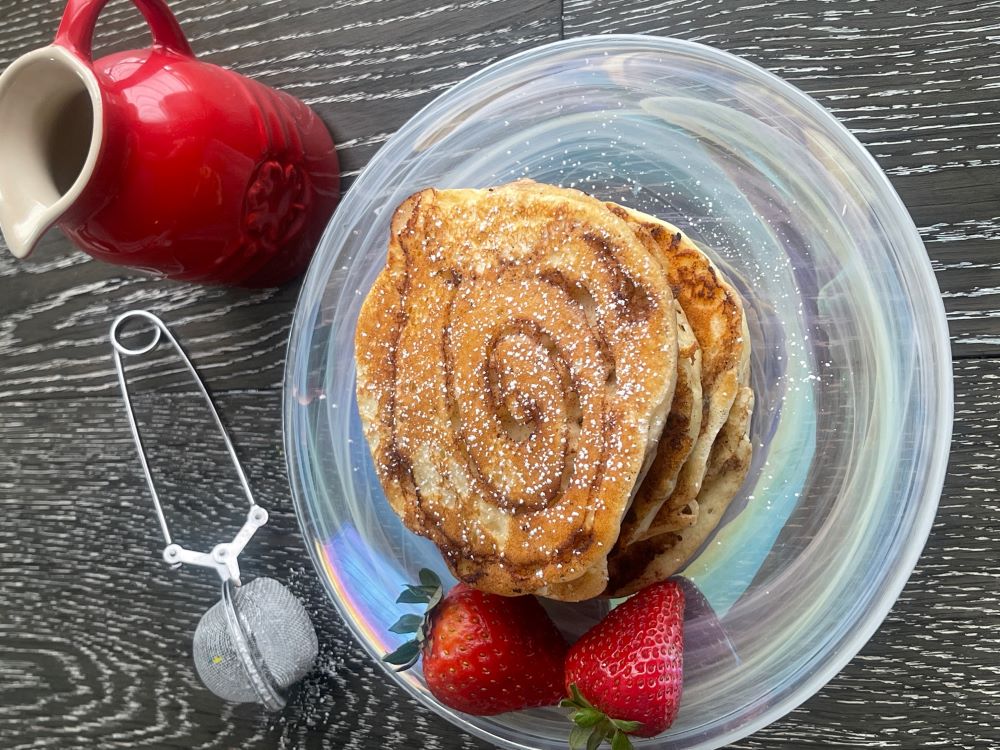 This post contains affiliate links.
Whether it be for a lazy morning or for Shrove Tuesday, aka Pancake Tuesday, it's nice to have a couple of pancake recipes that you can turn to. These cinnamon bun inspired pancakes are a new favourite around here.
On a recent trip out of town, the kids enjoyed some cinnamon bun pancakes. They loved them! What's not to love? Classic pancakes with a cinnamon filling swirl. These were topped with a icing sugar glaze which totally pushed their breakfast into dessert category.
I decided that this is something I needed to add to my repertoire, minus the sugary glaze. The swirl was made with butter, brown sugar and cinnamon, key ingredients for making cinnamon buns. When you mix the filling ingredients together, you can pour it into a squeeze bottle or just put it into a sandwich bag and cut off the end.
The kids devoured these so I knew they were a hit. Instead of the glaze, we dusted with a little bit of icing sugar and topped with maple syrup and fruit.
Ingredients
1 egg
1 cup milk
1 cup flour
2 tsp baking powder
salt, pinch
1 TB butter, melted
1/4 cup butter, melted
1/4 cup brown sugar
2 tsp cinnamon
Instructions
In a bowl, whisk the egg and milk together.
Add in the dry ingredients followed by the butter.
While the batter sits, put together the the ingredients for the swirl.
Combine the butter, sugar and cinnamon and once combined, add it to a squirt bottle.
Grease a pan and add 1/4 cup batter, pouring it into the pan into a circle.
Once bubbles start to form, pour the swirl on the batter.
Once the bottom has cooked, flip and finish cooking.
7.8.1.2
199
https://foodmamma.com/2022/02/cinnamon-swirl-pancakes/
Love pancakes? Try these lemon ricotta pancakes.
Forget the pancakes, give me some cinnamon buns!