Nutritious eggs are the perfect go-to for any meal. This Mexican Frittata can be served for breakfast, lunch or dinner and makes for a very balanced meal.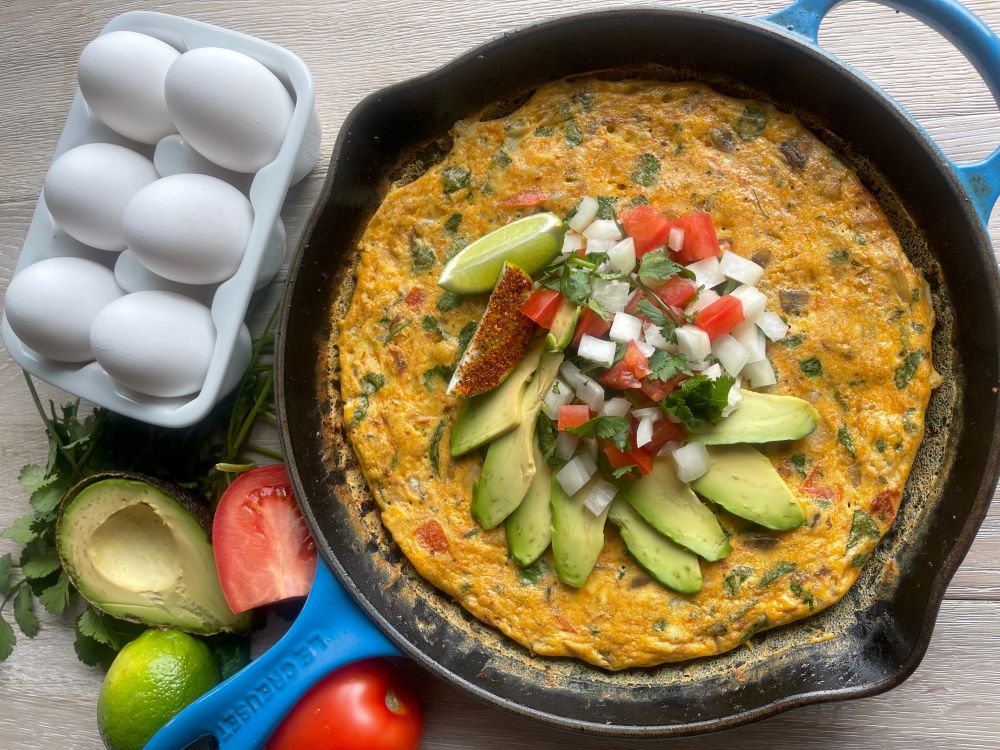 Disclaimer – Egg Farmers of Alberta have sponsored this post but all thoughts and opinions are my own.
One of the things that we get Z to do before a hockey game is to have a meal of eggs. It's important to me to ensure that he does not get hungry while he is playing and that he has the energy to play his best. Each egg contains 6 grams of protein which helps in keeping my high energy hockey player energized. The fact that it can be made in so many different ways helps in ensuring that Z does not get bored with his pre-game egg meal.
March is Nutrition month and it's the perfect time to highlight the nutrient-dense egg. Eggs contain all nine essential amino acids and are full of so many vitamins and minerals which include iron, vitamins A, B12, D, E, folate, selenium, lutein and choline. From building tissues, repairing muscles, maintaining healthy skin and eyes, eggs are like superheroes. You can find all this information and more on the Egg Farmers of Alberta's site here.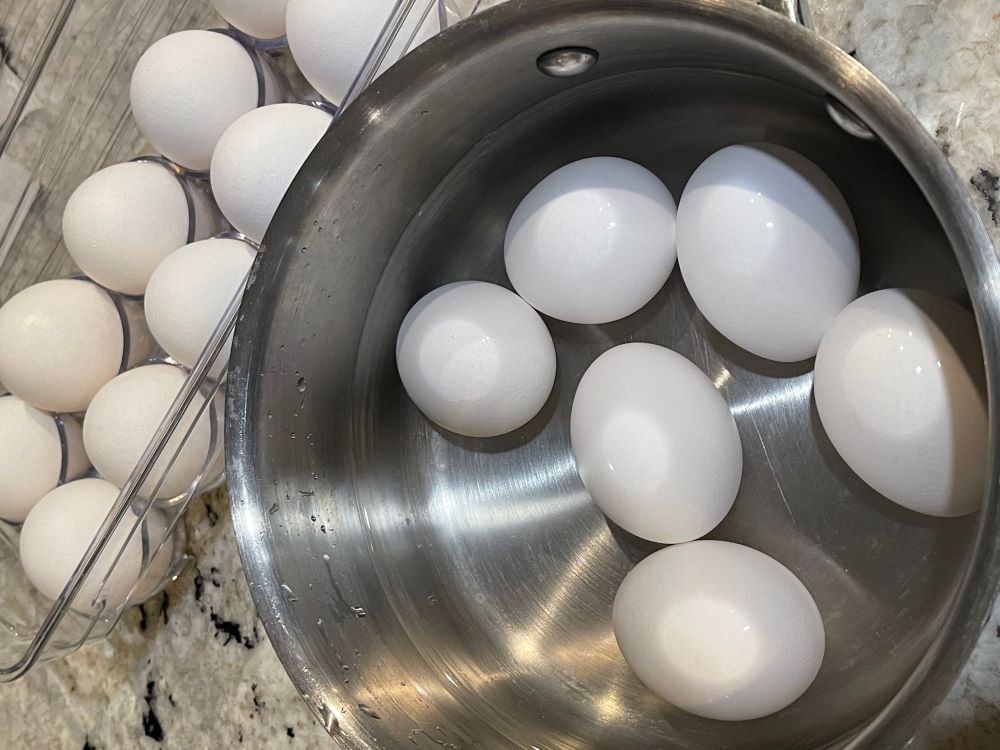 Frittatas are one of my favourite things to make for a meal, but most especially when we are having guests over for breakfast or brunch. It's one of those things where the ingredients can be tailored to who is eating them and it's definitely a recipe that is perfect for cleaning out the fridge. From the various meats, cheeses, vegetables, the possibilities are endless. The most simplest of ingredients that make a most delicious and flavourful dish.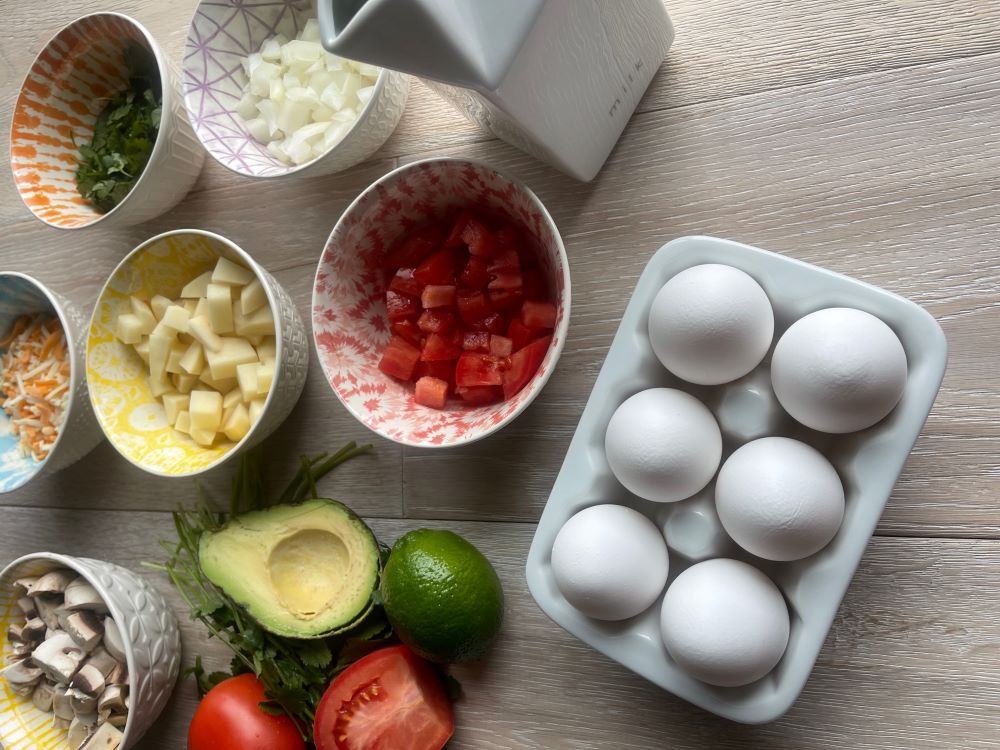 For this Mexican inspired version, the frittata is filled with our favourite veggies along with salsa and cheese and then is topped with pico de gallo and avocados. I start the process on the stove where the majority of the frittata is cooked and the last few minutes are finished in the oven. Eggs itself are filling and healthy but adding in all the veggies just rounds out all the goodness and makes for a very nutritious meal.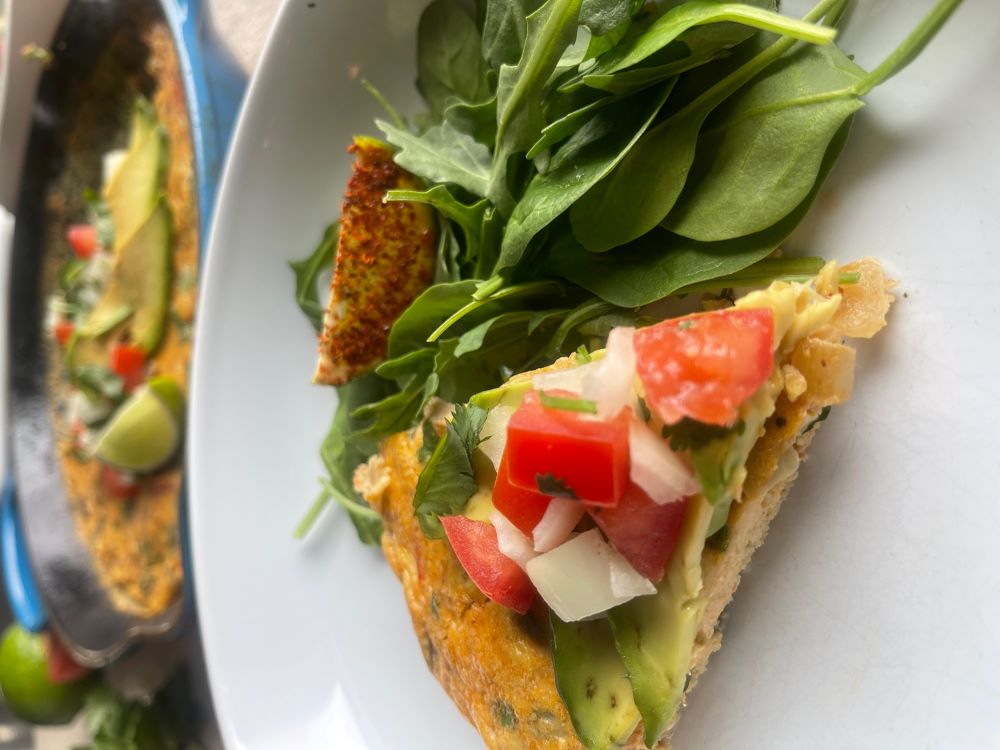 This is great for breakfast with a side of toast and fruit or for lunch or dinner with a salad.
For information and more recipes using eggs, head to https://eggs.ab.ca/.
Love eggs?
Check out these other recipes on my site:
Jammy Eggs and Smoked Salmon Salad
Grilled Portobello Eggs
Egg Pakora
Ingredients
6 eggs
1/3 cup milk
1/2 cup tex mex cheese
cilantro, handful
salt
pepper
2 small potatoes, peeled and chopped
1 onion, chopped
1 cup mushrooms, chopped
1 tomato, chopped
2 tsp crushed garlic
2 TB salsa
Instructions
In a bowl, beat the eggs.
Add the milk, cheese, cilantro and season with salt and pepper and keep this aside.
Add some oil to a 10" pan and once the oil has heated, add in the potatoes.
After a couple minutes, add in the onions and cook them both together.
Add the remaining vegetables along with garlic and salsa and cook until the potatoes are cooked and the liquid has cooked down. This could take 10 to 15 minutes.
Add a drizzle of oil and add in the egg mixture.
Push the eggs to the middle of the pan as it cooks to make them a little fluffy.
Once you see the egg start to set, finish the egg in the oven at 400 degrees for 4-5 minutes.
Garnish with avocados, pico de gallo, limes and cilantro.
7.8.1.2
200
https://foodmamma.com/2022/03/mexican-frittata/