Eggs and smoked salmon are a match made in heaven! Add some greens and you have yourself a delicious summer salad.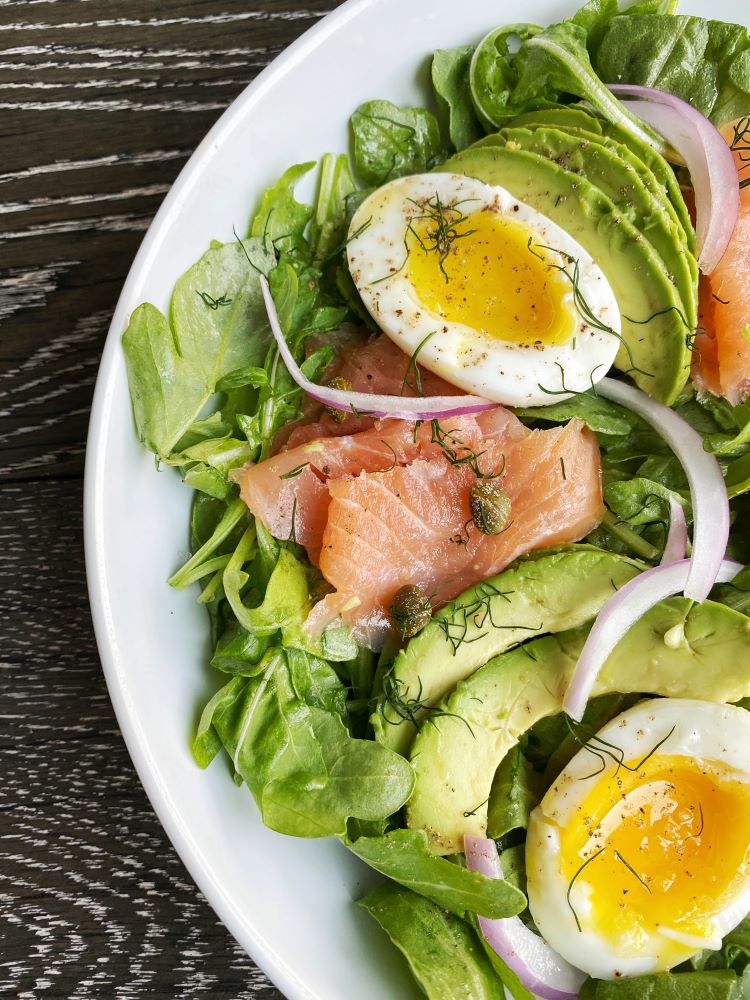 Disclaimer – Egg Farmers of Alberta have sponsored this post but all thoughts and opinions are my own.
If I had to choose my favourite breakfast, it would have to be smoked salmon eggs benedict. The salty fish with the luscious eggs are a match made in heaven. But who says this combination should only be reserved for breakfast?
Cooking sometimes seems tedious on these hot summer days. It's nice to have items prepped in the fridge that can be assembled into a quick and easy meal, like this jammy egg and smoked salmon salad.
While this salad is a take on an eggs benny, I decided to not use poached eggs (although you totally could!) Jammy eggs fall between a soft boiled egg and a hard boiled egg, where you still have a soft yolk and they are perfect in salads. The best part is, they can be made ahead of time and can be kept in the fridge for a couple days. I keep them in the shell and just place them in some hot water to warm up. It's so convenient to have them ready and waiting for a quick and simple dinner.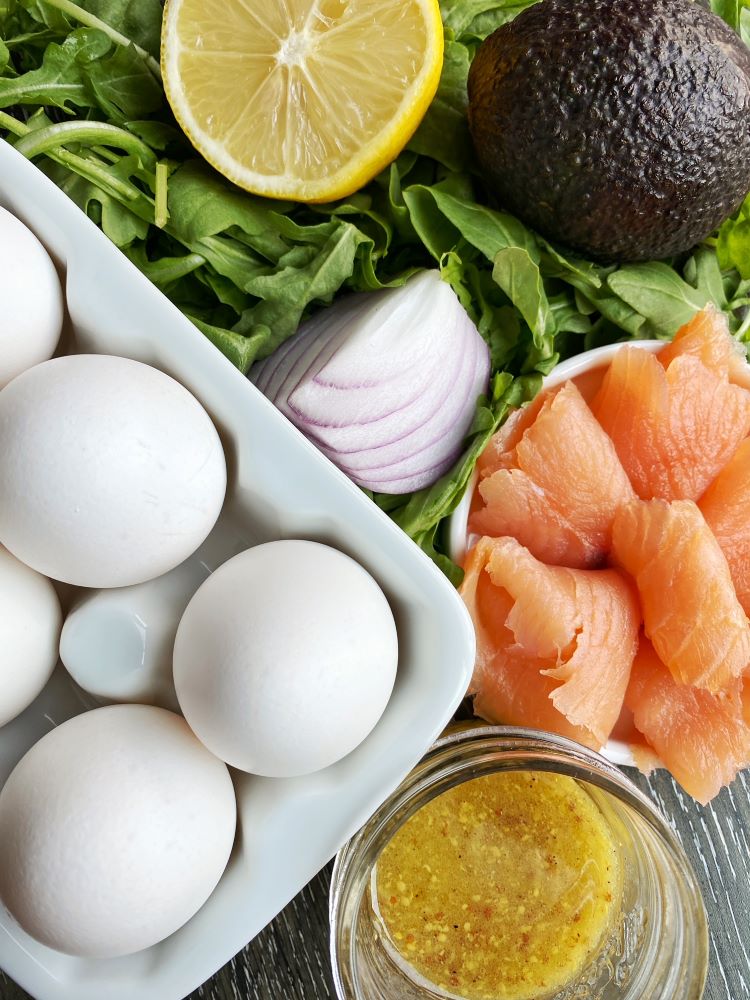 For this salad, I use arugula for the base. I love the spicy bite. Slices of crisp red onion and creamy avocado complement the smoked salmon and eggs. For the dressing, I kept it nice and light with lemon, honey and mustard. The combination works so well together and is so delicious. I used salty capers and fresh dill to garnish the salad, and salt and pepper on the eggs, to ensure they were well seasoned.
How To Make Jammy Eggs
Making jammy eggs is a very simple process. You just bring water to a boil in a pot. Once the water is boiling, gently lower the eggs into the water and set a timer for six and a half minutes. Have a bowl of water and ice ready. When the timer goes off, place the eggs into the water to stop them from cooking further. This method works every time for perfectly cooked eggs where the whites are firm and the yolk is tender and soft.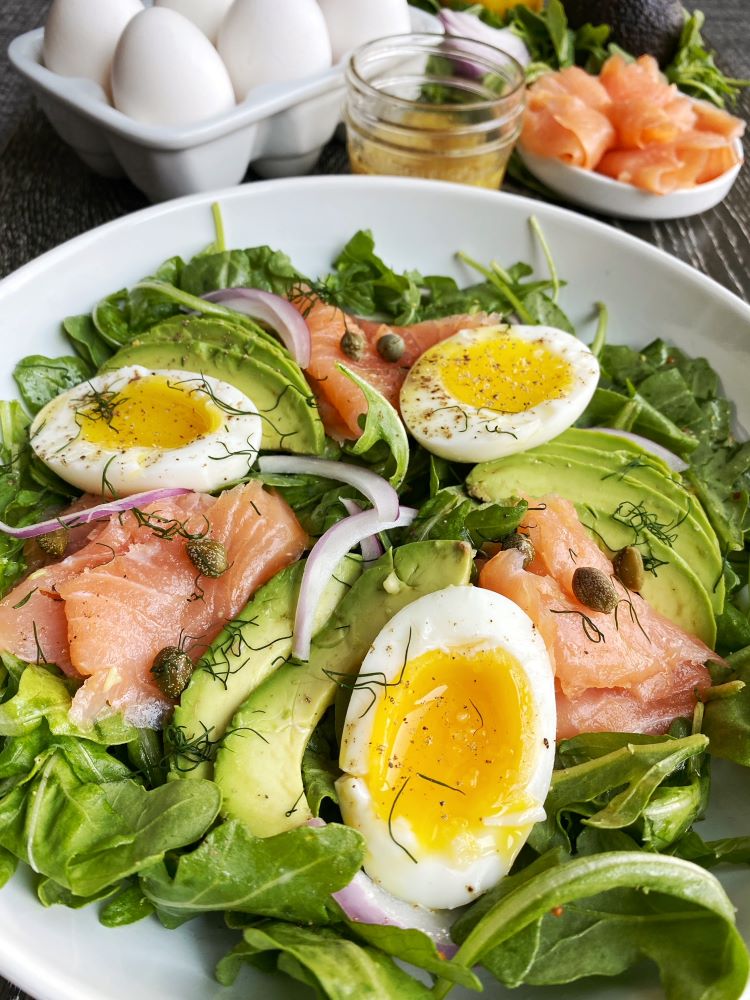 Alberta's egg farmers are proud to be able to provide their fellow Albertans with fresh, high-quality, nutritious and delicious, locally produced eggs and egg products. Alberta's egg farmers are dedicated to providing their birds with the highest quality of care possible, are committed to producing safe, fresh eggs, and farm the land using environmentally responsible practices, ensuring Alberta's egg industry will be sustainable for generations.
All eggs sold at grocery stores in Canada are free of added hormones, steroids and antibiotics and are produced to the same world-class Canadian standards for food safety and quality. All Canadian eggs are fresh, nutritious and delicious!
For information and more recipes using eggs, head to https://eggs.ab.ca/.
Jammy Eggs and Smoked Salmon Salad
Ingredients
4 eggs
4 cups arugula
½ red onion, sliced
1 avocado, sliced
150g smoked salmon
1 TB capers

Dressing:

¼ cup olive oil
1 TB rice wine vinegar
1 TB fresh lemon juice
1 TB honey
2 tsp Dijon mustad
salt
pepper
Instructions
Bring a pot of water to a boil.
Gently lower 4 eggs into the water and set a timer for 6 ½ minutes.
When the timer goes off, place the eggs in ice water to stop them from cooking further.
Once cooled, gently tap the eggs on a counter and peel off the shells.
In a jar, combine the dressing ingredients and give it a good shake.
In a large bowl, combine the arugula and onions.
Add a little bit of the dressing and toss to combine.
On top of the greens, arrange the salmon and avocado.
Cut the eggs in half and add those on top as well.
Garnish with capers and dill and season with salt and pepper.
7.8.1.2
178
https://foodmamma.com/2021/08/jammy-eggs-and-smoked-salmon-salad/