Egg and cheese waffles are a perfect addition to any school lunch or quick snack in between extra curricular activities.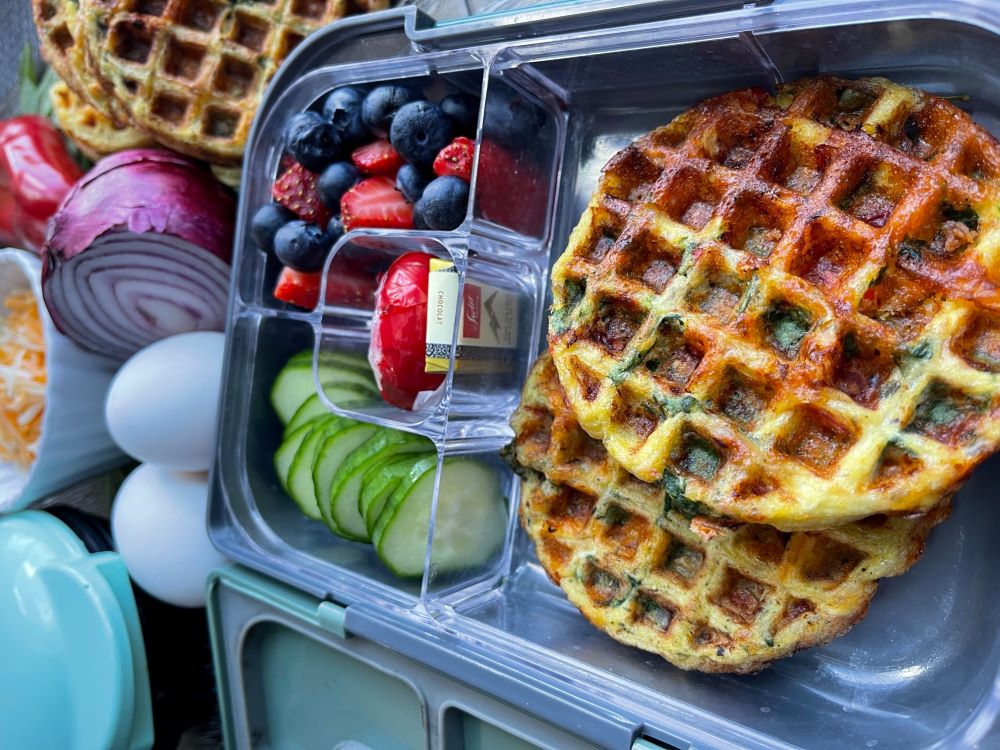 Disclaimer  – Egg Farmers of Alberta have sponsored this post but all thoughts and opinions are my own.
September is here and along with it comes school lunches, and packed schedules after school. It is going to be busy! While I'm looking forward to the routine, school lunches are not my favourite thing. It's important for me that the kids get something that is nutritious and will keep them full but I also want to make sure that it is something that they will actually eat. Having a full lunch come back can be a very frustrating thing.
One thing the kids never tire of is waffles. It doesn't really matter what's in them, they see a waffle and they are happy. These egg and cheese waffles do double duty in keeping both mamma happy with the nutritional value and kids happy with the taste and fun.
Eggs are nutrient-dense and contain all nine essential amino acids. They are full of so many vitamins and minerals which include iron, vitamins A, B12, D, E, folate, selenium, lutein and choline. From building tissues, repairing muscles, maintaining healthy skin and eyes, eggs are like superheroes. You can find all this information and more on the Egg Farmers of Alberta's site here.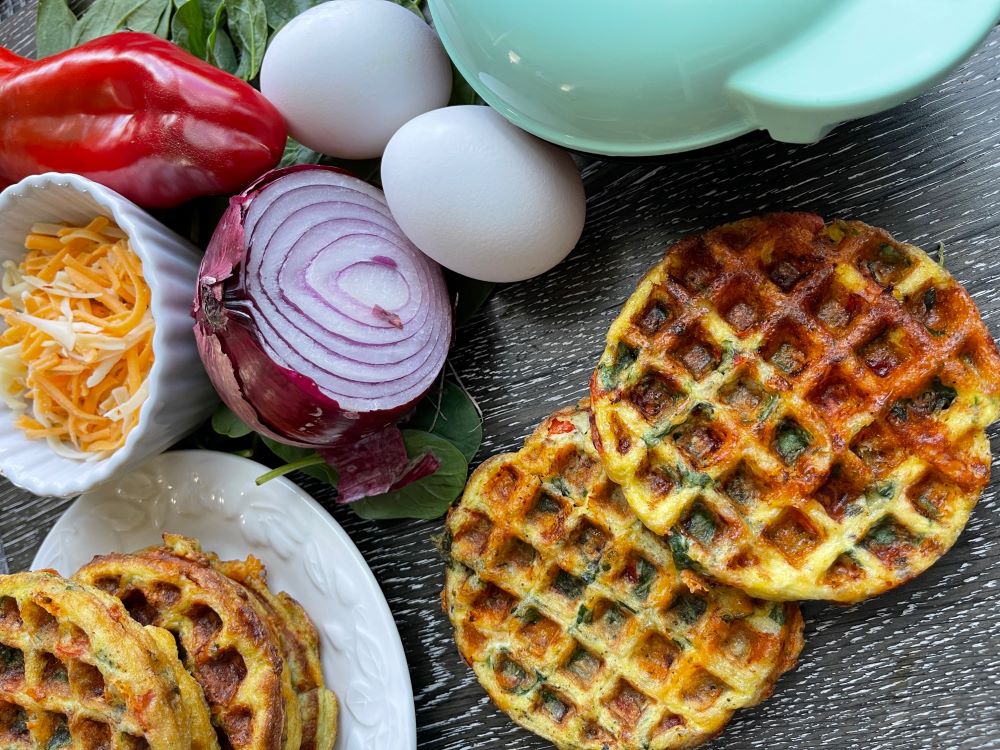 I love the simplicity of this recipe. The basics are just eggs and cheese. The addition of the cheese creates a crust when the eggs are cooking in the waffle maker, making the waffles crispy and sturdy. They won't get soggy in a lunch box which is important. Soggy lunches do not get eaten. I use Italian seasoning to give it that extra bit of flavour.
Mini waffle makers are great for this recipe. They are the perfect size for little hands and it makes them fit easier in various bento boxes. It's easy to make up a batch that will last for a few days of lunches. The waffles are great for on-the-go, when rushing after school to and from activities.  
For information and more recipes using eggs, head to https://eggs.ab.ca/.
Love eggs?
Check out these other recipes on my site:
Jammy Eggs and Smoked Salmon Salad
Grilled Portobello Eggs
Egg Pakora
Yields Makes 4 mini waffles
Egg and Cheese Waffles
Ingredients
2 eggs
1 cup shredded cheese
½ cup spinach, chopped
¼ cup red peppers, chopped
¼ cup onions, chopped
1 tsp Italian seasoning
salt
pepper
Instructions
Heat your waffle maker as per manufacturer's instructions.
In a bowl, beat the eggs and add the veggies, cheese and spices.
Spray the waffle iron with cooking spray and add a quarter of the mixture to the machine.
Cook until done and repeat with the remaining mixture.
7.8.1.2
209
https://foodmamma.com/2022/09/egg-and-cheese-waffles/