Sheer Khurma is a classic dessert during Ramadan. With vermicelli, dates and nuts, this milky pudding is rich and delicious.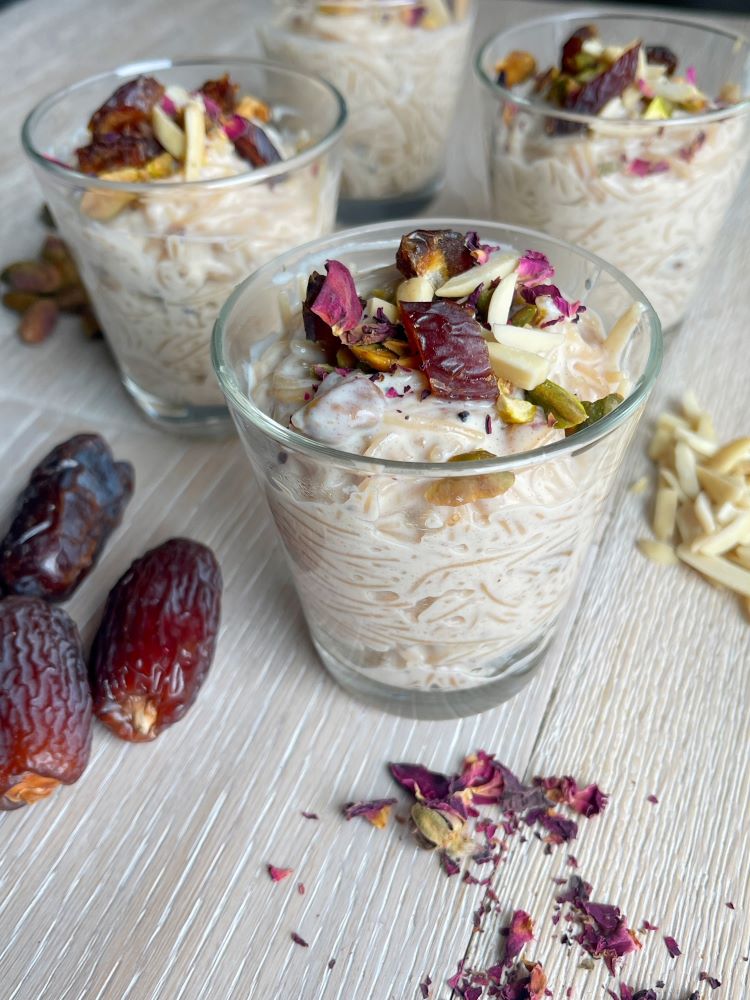 Disclaimer – Natural Delights have sponsored this post but all thoughts and opinions are my own.
With Ramadan around the corner, it is definitely time to stock up on Medjool Dates They are a staple for breaking the fast and definitely a must-have during this important month.
Natural Delights Medjool Dates are fresh dates found year-round in the produce section of your favourite grocery store. They are very high in antioxidants, fibre, potassium and micro nutrients. They are naturally sweet and contain no sulphites or preservatives. They are perfect for snacking on and are great to bake with.
One of my favourite desserts during Ramadan is Sheer Khurma. This creamy pudding is filled with toasted vermicelli, dates and nuts and is such a treat!
Ingredients
This milky dessert has a base of milk and heavy cream. Toasted vermicelli, Medjool dates, nuts (I used pistachios and almonds) are key. The milk is sweetened with sugar and seasoned with cardamom and nutmeg. The flavour is taken to another level with the addition of rose water.
Toasted vermicelli can usually be found in ethnic grocery stores.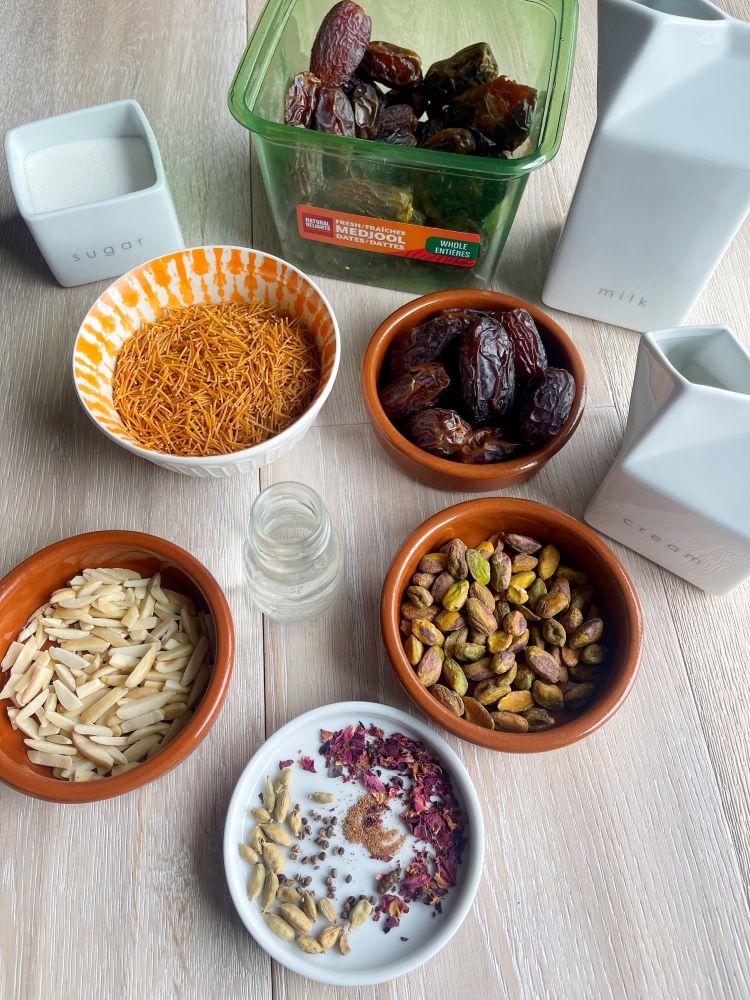 Method
It's important to use a heavy bottomed saucepan to make Sheer Khurma, so that the milk and cream do not burn. Even though we use toasted vermicelli in this dish, I still do a quick little toast in a bit of butter. I then add the milk and cream and let it come to a boil. Watch carefully because you do not want this to overflow. Once you see it boil, turn down the heat and let it cook for a while. At this point, you can add the sugar, dates, nuts and seasonings. You will think that there is way too much milk compared to the vermicelli but resist the urge to add more. The milk will reduce and thicken and it won't seem as much in the end. Once the milk has thickened, add in the rose water. Spoon the pudding into bowls and garnish with nuts, dates and rose petals.
Once the pudding has thickened, be sure to check for desired sweetness and the amount of rose water. This is all based on personal preference.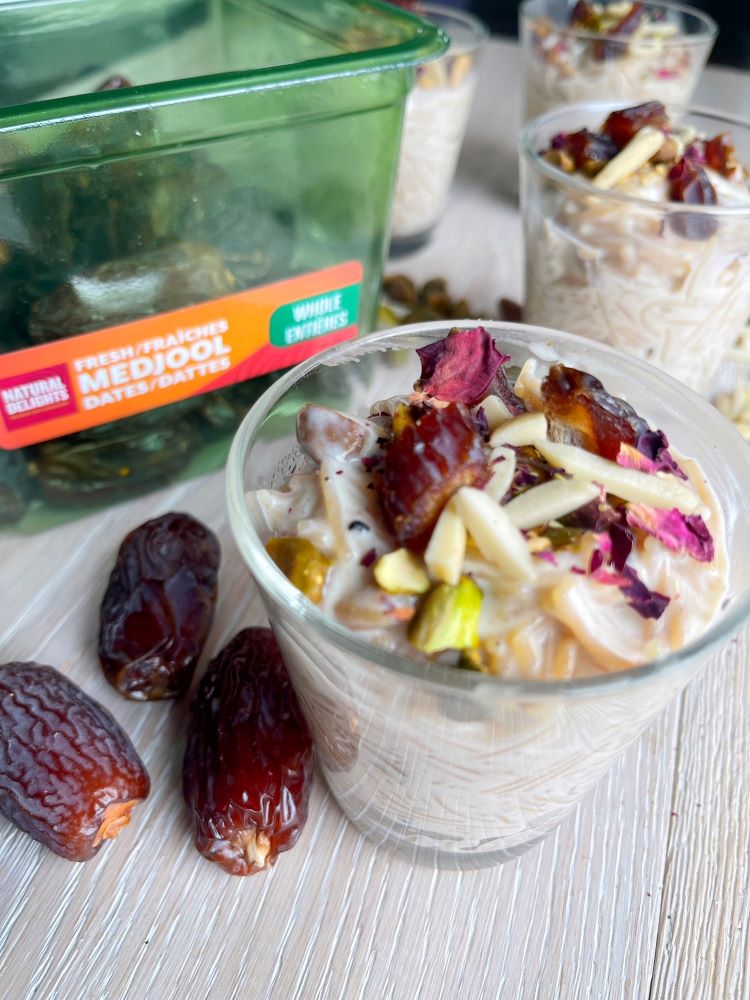 Sheer Khurma (Vermicelli and Date Pudding)
Ingredients
3 cups milk
1 ½ cups heavy cream (whipping cream)
1 TB butter
¾ cup toasted vermicelli
¼ cup sugar
4 – 6 Natural Delights Medjool Dates, chopped
¼ cup nuts (plus more for garnishing)
½ tsp cardamom seeds, crushed or cardamom powder
1/8 tsp nutmeg
1-2 tsp rose water
Instructions
In a heavy bottomed saucepan, melt the butter and add the toasted vermicelli, toasting it a little bit more for about a minute or two.
Add in the milk and cream and let it come to a boil.
At this point, turn down the heat and add in the sugar, dates, cardamom and nutmeg.
Let the mixture cook until the milk has reduced and everything is cooked
Spoon the pudding into bowls and garnish with nuts, dates and rose petals.
7.8.1.2
202
https://foodmamma.com/2022/03/sheer-khurma-vermicelli-and-date-pudding/