Baklava Cheesecake Cups are a delicious and unique dessert that combines two beloved treats. They are perfect for Eid or any special occasion.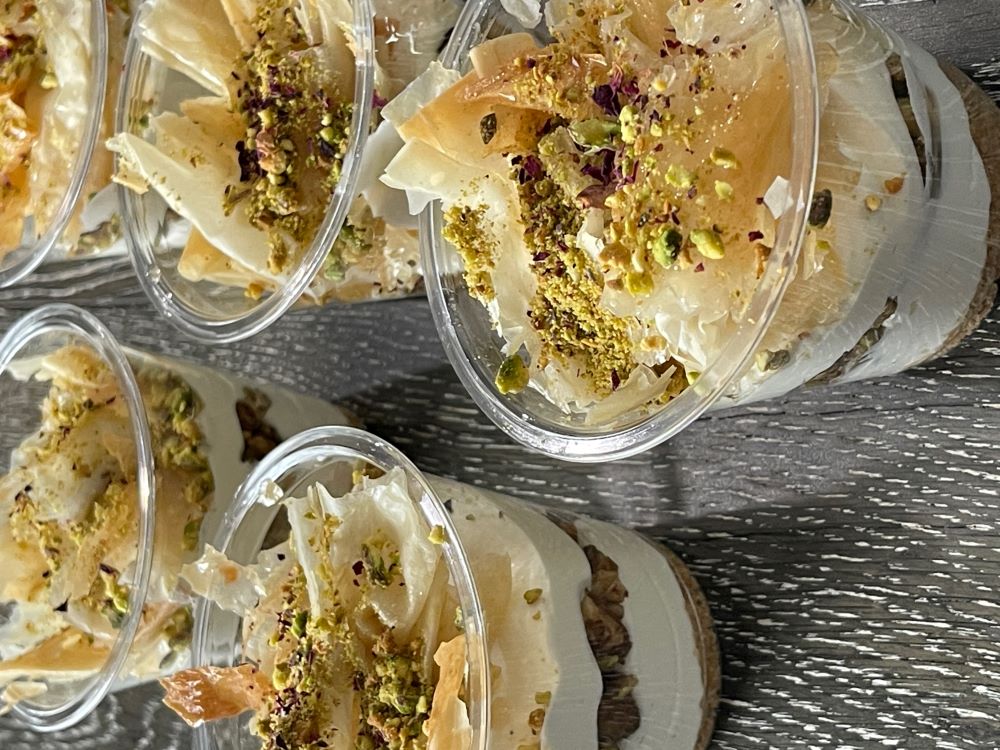 Eid is a time of joy and celebration, and what better way to celebrate than with delicious food and sweets? Baklava cheesecake cups are a perfect dessert for Eid, combining the flavors of two traditional treats in a unique and tasty way.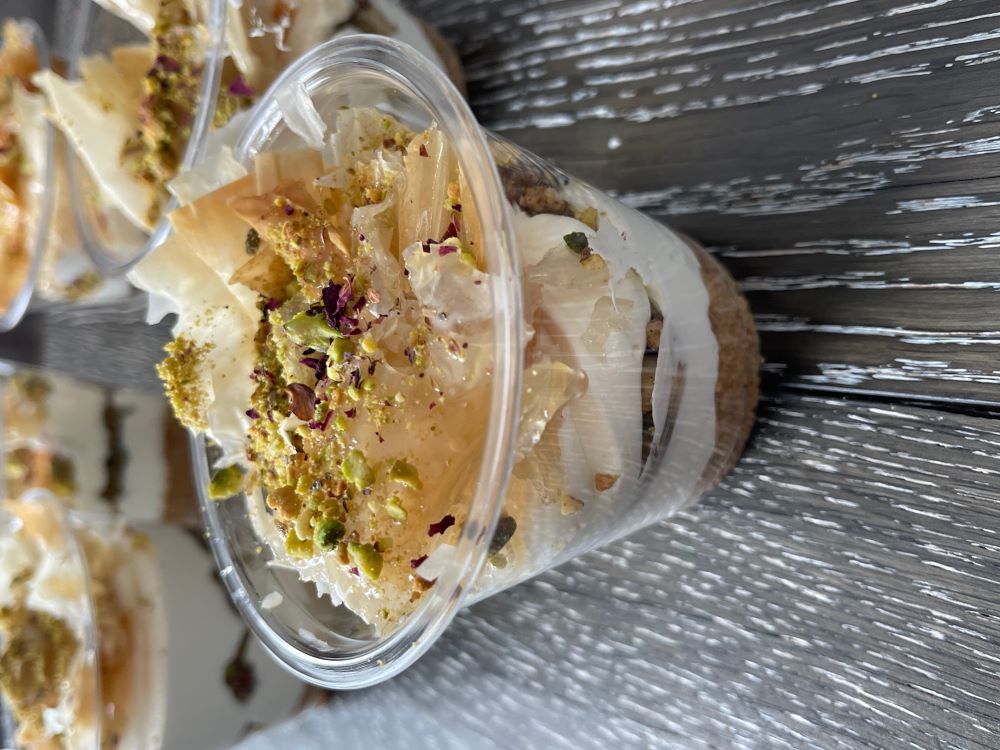 I love baklava and find the flavours irresistable. Baklava is a sweet pastry, popular in many Middle Eastern countries. It is made with layers of phyllo dough filled with chopped nuts and honey syrup.  Sweet, nutty, crunchy – its definitely a dessert that wows
I also can't resist a good cheesecake. The no bake versions are super easy to make. Rich and creamy, made with cream cheese, sugar and whipped topping.
Combine these delicious desserts into one and you have these baklava cheesecake cups. This layered dessert has a graham crumb crust, a creamy cheesecake filling with a layer of nuts and honey syrup. It is then topped with crunchy crinkled phyllo with a honey syrup and garnished with more nuts and rose petals.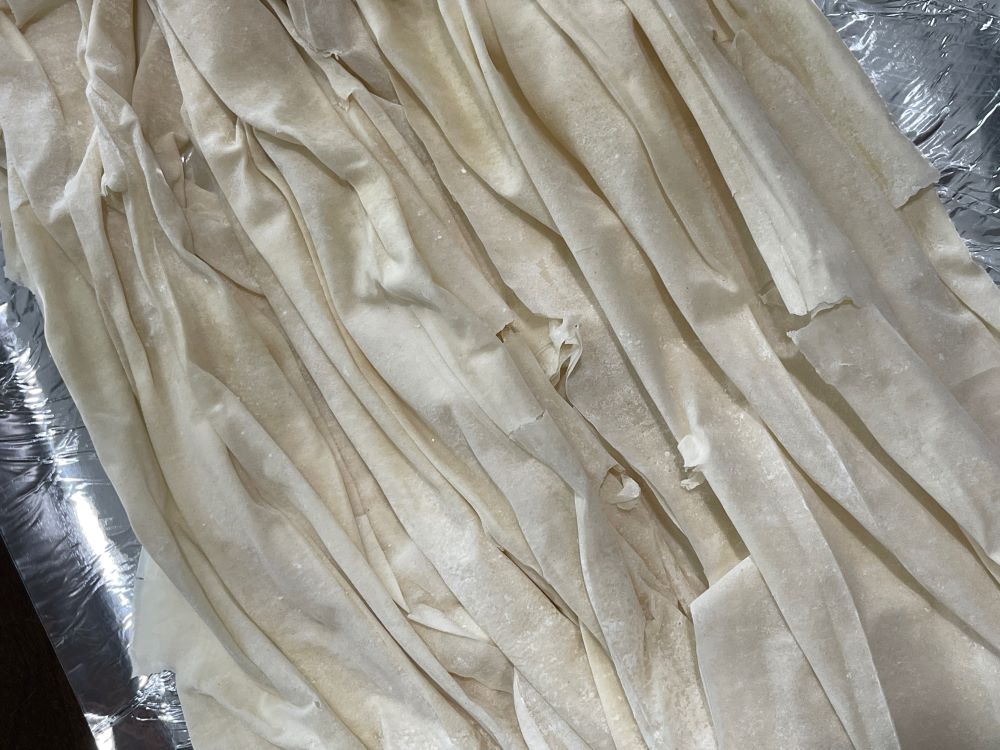 While the different layers may make it seem like a daunting dessert, it is super easy to make and perfect for any special occasion.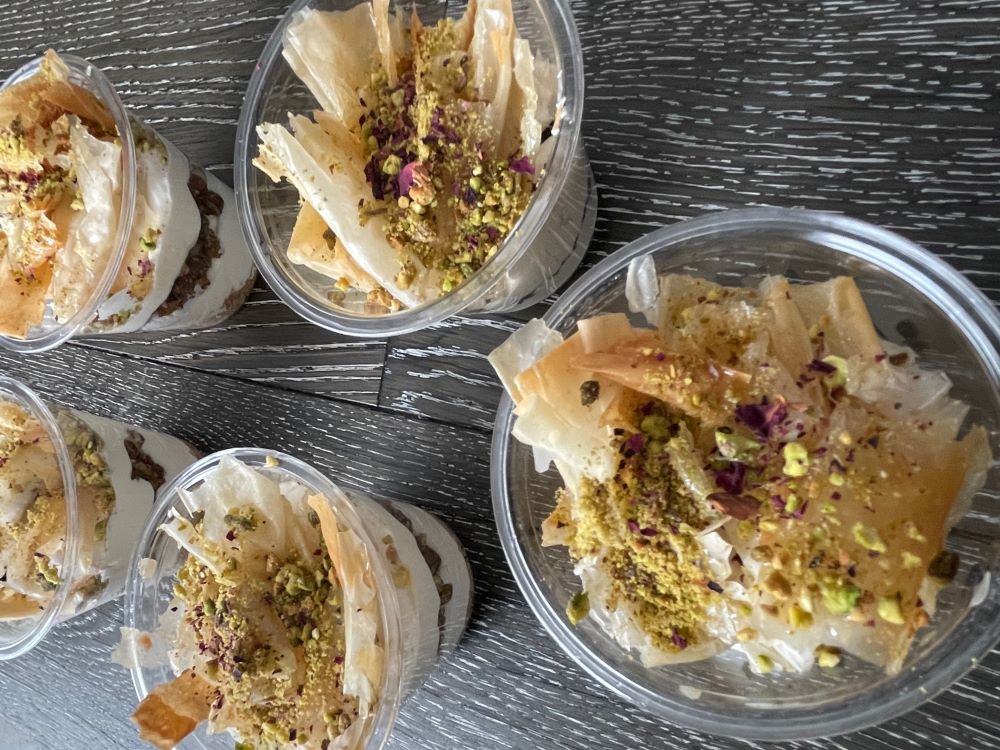 No-Bake Baklava Cheesecake Cups
Ingredients
Bottom Layer

1 cup graham cracker crumbs
1/4 cup sugar
1/4 cup melted butter

Cheesecake Layer

2 blocks cream cheese
1/3 cup sugar
1 L whipped topping

Honey Syrup

1/4 cup sugar
1/2 cup honey
1/4 cup water
1 tsp rose water

Nut Layer

1 cup chopped nuts (pistachios, almonds)
1/2 tsp cinnamon
2 TB honey syrup

Phyllo Topping

6 sheets phyllo
Melted butter
Pistachios and rose petals for garnish
Instructions
In a bowl, combine the graham crumbs, sugar and melted butter. Set aside.
In a mixer, combine the cream cheese and sugar.
Gently fold in the whipped topping and set aside.
In a pot, on medium heat, bring to a boil the sugar, water and honey. Let it boil for 3-4 minutes until it thickens and then add the rose water.
Take it off the heat and set aside.
In a bowl, combine the chopped nuts with cinnamon and 2 TB of the syrup and set aside.
On a cookie sheet, take 2 sheets of phyllo, crinkling it together like picture above.
Do the same with the remaining sheets.
Brush with melted butter and bake at 400 degrees for 10 minutes.
Flip over and bake for another 5-10 minutes until it is toasted.
Brush with the honey syrup and let it cool. Once cooled, cut it into pieces.
To assemble the cups, place a spoonful of the crumb mixture on the bottom of each cup.
Place a spoonful or two of the cream cheese mixture, a spoonful of the nut mixture and then top again with the cream cheese mixture.
Top with the pieces of baked phyllo and garnish with nuts and rose petals.
7.8.1.2
220
https://foodmamma.com/2023/04/no-bake-baklava-cheesecake-cups/