These egg fritters are protein-rich and make a perfect snack to energize. Be sure to include it in your snack box for the summer.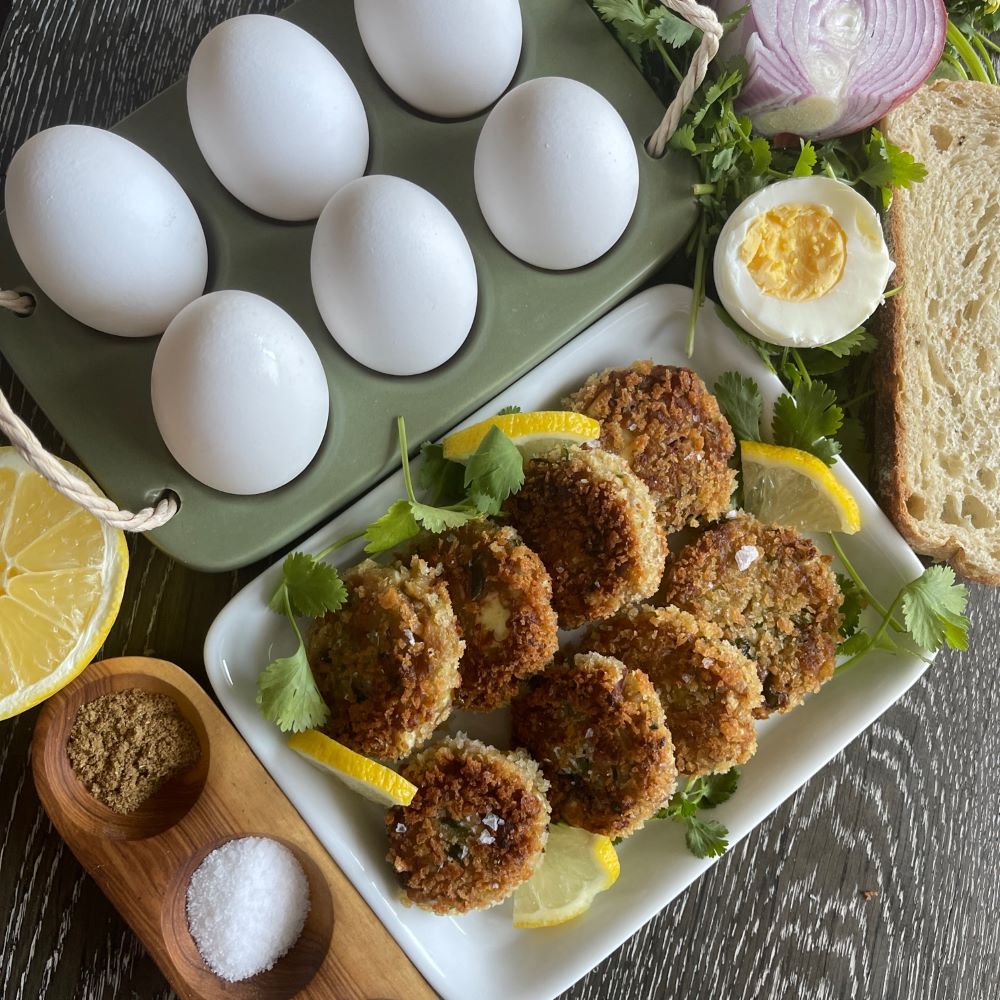 Disclaimer – Egg Farmers of Alberta have sponsored this post but all thoughts and opinions are my own.
It's been nice and hot and has been the perfect opportunity to get outside.  Soccer, bike rides, and fun at the park, the kids have been busy! To ensure that they are getting the nutrients they need while getting their bodies moving, I make these easy to make egg fritters. Made with hard boiled eggs, these fritters are packed with protein.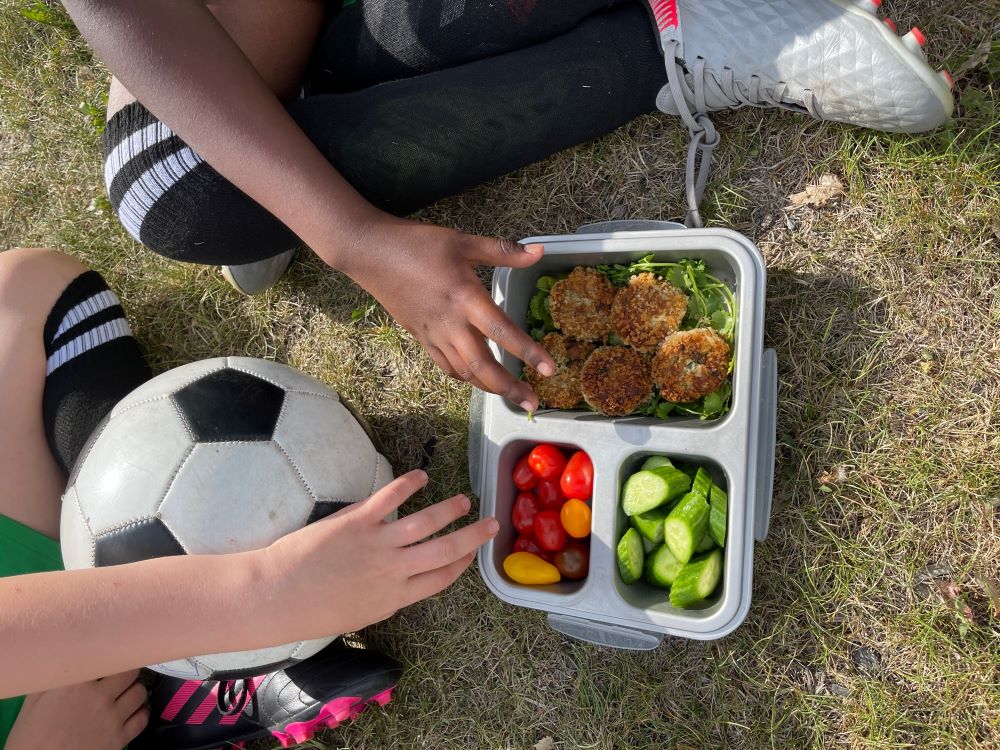 Eggs are one of the most nutrient-dense foods and are key to having energy. They are important for a healthy lifestyle building and repairing body tissues and cells, building and maintaining healthy muscles and helping keep your body fluids in balance. The nutrients that can be found in every egg include protein, iron, vitamin A, vitamin D, vitamin E, vitamin B12, folate, selenium, lutein, zeaxanthin and choline. Head to the Egg Farmers of Alberta website to find out more!
Each batch of these fritters contains two hard boiled eggs, grated into the mixture. The eggs are combined with a couple pieces of bread and spices like garlic, ginger, cumin and coriander.  Rice flour is used to bind it all together, making it easy to roll into balls.
These egg fritters are reminiscent of falafel but lighter in texture. To ensure that each ball looks the same, I use a cookie scoop to ensure that every fritter is the same size. Each ball is coated in panko and pan fried.
How To Make Hard Boiled Eggs
Hard boiled eggs are super simple to make. This is my favourite method, ensuring that they are perfectly cooked and not overdone. Place the eggs in a pot of water. Heat the water and when it starts boiling, take the pot off the heat. Place a lid on the pot and set a timer for ten minutes. Have a bowl of water and ice ready. When the timer goes off, place the eggs into the water to stop them from cooking further.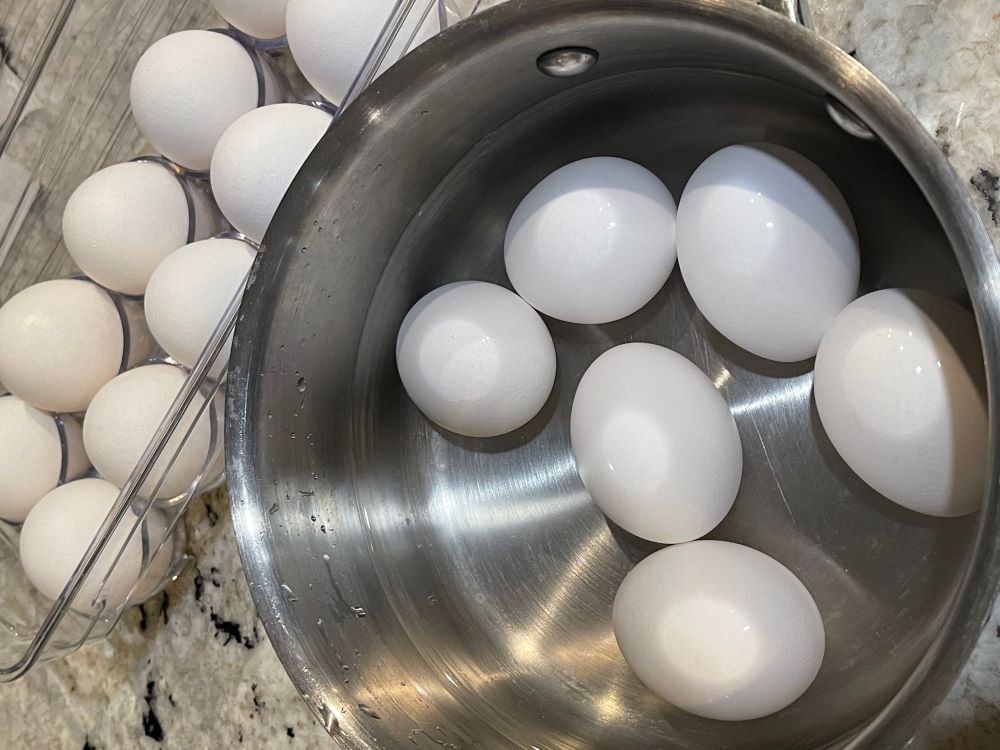 Yields Makes 10-12
Egg Fritters
Ingredients
2 hard boiled eggs
2 slices of bread
¼ cup water
¼ cup onions, chopped
¼ cup cilantro, chopped
1 tsp ginger paste
1 tsp garlic paste
1 tsp cumin powder
1 tsp coriander powder
2 TB rice flour
panko bread crumbs
salt
pepper
lemon
Instructions
Place the bread in a deep dish and pour water on it.
Let it sit while you peel the eggs.
Squeeze the water out of the bread, leaving the water in the dish.
Peel the hard boiled eggs and then grate them on top of the bread.
Add the onions, cilantro, spices and flour and combine until it all comes together.
Using a small cookie scoop, scoop out even portions of the mixture.
Using your hands, form the mixture so that it's a little flattened and looks like a falafel.
Roll each portion in panko and pan fry until golden.
When it comes out of the pan, squirt on some lemon and sprinkle with Maldon salt.
7.8.1.2
222
https://foodmamma.com/2023/06/egg-fritters/
Love eggs? Check out more recipes here.