Rob Rainford was on CityLine last week and he made these amazing looking stuffed prawns wrapped in bacon. These looked like the perfect item for our upcoming appetizer party. I made a few changes, using ingredients that I had in the house. Trying to stop the cheese from oozing out while wrapping the prawn with the bacon took some effort. After making only 8, I decided that these may be more work than they were worth. I was wrong! These tasty bites were so amazingly delish, I wish I had made more. The creamy garlic from the cheese, the sweetness from the soy, the grease from the bacon – they just made us wanting more.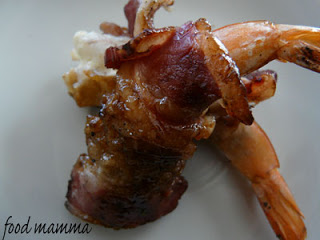 Beef Bacon Wrapped Boursin Filled Prawns
(Adapted from Rob Rainford's Stuff Jumbo Prawns with Goat Cheese Wrapped in Bacon)
8 jumbo prawns, peeled and deveined
8 tsp boursin cheese
4 strips beef bacon (or any bacon you wish to use)
4 TB sweet soy sauce
Butterfly each prawn and fill with boursin cheese. Take half a strip of bacon and wrap around the prawn, holding it together with tooth picks. BBQ until prawns turn pink, basting with the sweet soy sauce on both sides. Gently remove the tooth picks before serving.