The best thing about this nice weather we've been having is cooking outside. The bbq has been on a lot lately and it's been great! I felt like having Mexican food and the first thing that came to mind were fried fish tacos. As much as I love fried foods, I don't like to fry in my house. I took advantage of the warm weather and set up a frying station on the side burner of the bbq. As the fish came out of the fryer, they were sprinkled with salt and squirted with fresh lime. The fish was crispy and tangy, the vegetables added were fresh and the combination was amazing. They reminded me of the tacos we had on the streets of Ensenada a few years ago. We rounded out the meal with nachos on the side. It was a great fiesta!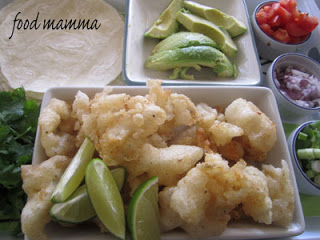 Fried Fish Tacos
Sole, cut into strips
1 cup + 1/4 cup flour
1.5 cups club soda
salt
pepper
Toppings: onions, tomatoes, avocado, salsa, sour cream, lettuce, cilantro, guacamole
Combine 1 cup flour, club soda, salt and pepper and let it rest for 5 minutes. Dredge the fish in the flour and then put into the wet batter. Once the batter turns golden, put on a paper towel and sprinkle with salt and squirt with fresh lime.