Around here, we are huge fans of tacos. Soft wraps or hard shells, we love them all. With tacos being so easy to prepare and everyone loving them, they are likely to be seen on the menu once a week.
Our new favourite way to eat tacos is in a casserole! While boiling a pound of pasta, we cook off some ground beef with taco seasoning. When both are done, we combine the two, put them in a casserole dish and cover the mixture with cheddar cheese. The dish is baked until the cheese is ooey and gooey.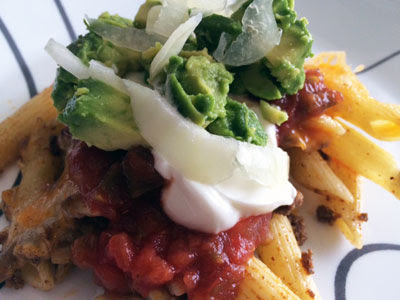 When we are ready to eat, we top the pasta with salsa, sour cream, onions, tomatoes and avocados. It's like eating a taco with a fork! Perfect for taco Tuesday!