We learned a lot from this year's garden. We had some hits and some misses and know what we want to focus on for next year. We had success with our tomatoes so we will definitely be planting those again.
One of my favourite things to make with the ruby gems is bruschetta.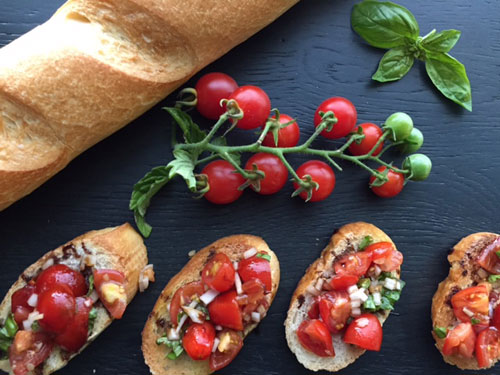 With bruschetta, there are no rules. Like garlic? Add as much as your heart pleases. We like lots. Want a crunch? Add an onion. Or don't. It's really what you want. To make this batch, I cut up some tomatoes into halves and quarters. I added a small onion, a couple cloves of garlic, a glug of olive oil and a splash of balsamic vinegar. I finished it off with ribbons of basil and a sprinkling of salt. This was served on toasted baguette and was oh so good! A great way to use up all those garden tomatoes.