When I went grocery shopping last week, tomatoes were not on the list since I had so many at home. But when I saw the container of coloured ones, I just couldn't resist. Red, orange, green, purple – they were just so pretty!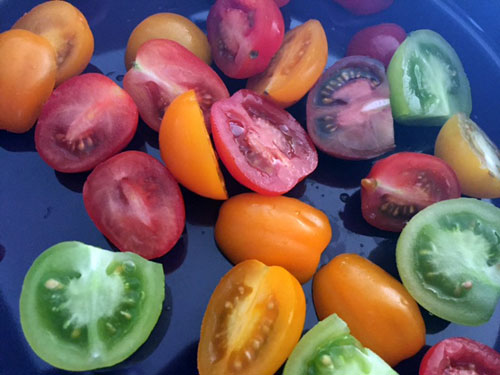 I immediately thought of a Panzanella salad – tomatoes and bread, the perfect combination. I bought a loaf of French bread which got polished off way before I had time to make a salad. Did I mention we love bread around here? I went and bought another loaf on the weekend, determined that it would make it into the salad this time.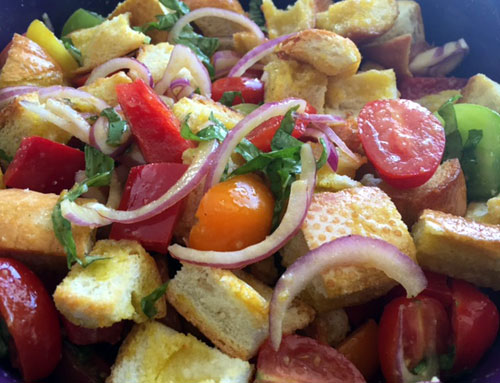 Saturday was a hot day so we pulled a few marinated items from the freezer (so handy!) and enjoyed them with this salad. It was bright and refreshing and we polished off the bowl.
Panzanella Salad
1/2 loaf French bread, cubed
1 pint cherry tomatoes, halved
1 red pepper, cubed
1/2 red onion, sliced
10 basil leaves, chopped
Dressing:
1 tsp garlic, minced
1 tsp Dijon mustard
2 TB white wine vinegar
1/4 cup olive oil
salt
vinegar
Place the cubed bread on a baking sheet and drizzle with oil, salt and pepper. Bake at 350 degrees until toasted.
Combine all the ingredients for the dressing. In a bowl, combine the vegetables, add the toasted bread and drizzle with the dressing. Let sit for a little while for the bread to soak up the dressing.