Hope all the moms out there had a great Mother's Day. I got spoiled by my boys with cards and bath bombs and even made it to the movies!
We had our moms over for lunch on Sunday, celebrating how awesome they are. We had spinach salad, dhokra, barbecued chicken and oven-fried cassava. There was also plenty for dessert – fruit, a bundt and knafi.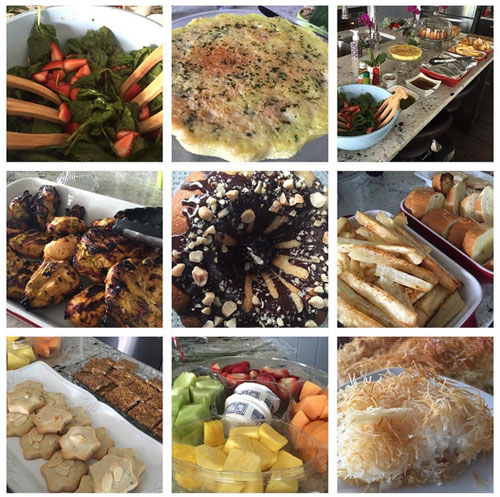 I tried Knafi at my aunt's house a couple years ago and loved it! Shredded phyllo enveloping a sweet ricotta mixture – it was so good, I couldn't stop thinking about it. I finally got the recipe for this Lebanese treat last week and thought it was perfect to try out for Mother's Day. I was surprised at how easy this dessert was. In fact, Q did all the work. The crunchy phyllo, the warm cheese – it was heaven!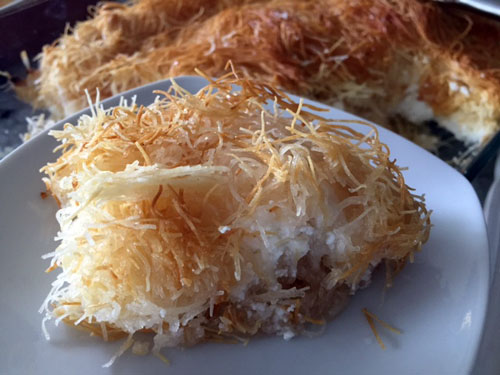 Knafi
2 lbs. ricotta cheese
1 cup sugar
1 lb shredded phyllo
3/4 cup melted butter
Syrup:
2 cups sugar
1 cup water
1 TB lemon juice
Preheat oven to 325 degrees. Combine the ricotta with the sugar. Place the shredded phyllo in a large bowl and pour the melted butter on top. Mix until the pastry is coated with the butter.
Spread half the pastry on the bottom of a 9 x 13″ pan. Spread the ricotta mixture on top of the phyllo. Cover the cheese layer with the remaining phyllo.
Bake for 1 hour until golden brown. In the meantime, make the syrup (see below). Remove from the oven and pour cold syrup over top. Serve warm.
Syrup: Combine the sugar and water and stir until dissolved. Boil over medium heat for 5 minutes. Add lemon juice and boil for 5 more minutes. Remove from heat and cool.