One of my favourite things from when I was little is enjoying the chocolate magic shell on top of ice cream. You know the one: chocolate syrup that once it hits the cold ice cream becomes a hard shell. I was happy when I rediscovered this a few months ago, adding nuts or sprinkles before the chocolate hardened.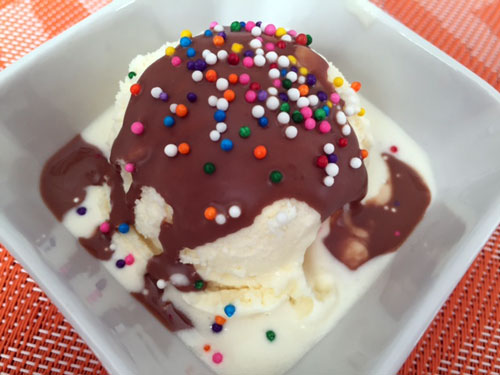 A while back, I saw them make a homemade version of this on tv and was surprised at how easy it was. We had this tonight and it was so good! Be sure you use a chocolate that you like and you will love it!
Chocolate Magic Shell
1/2 cup chocolate, milk or dark
1 TB coconut oil
In a bowl, add your favourite chocolate and the coconut oil. Microwave for 30 seconds, stir and repeat until the chocolate is melted. Let it cool a bit before pouring it on your favourite ice cream.