Anyone who knows me knows how much I like Vietnamese food. At least once a week, I venture out to a great Vietnamese shop a couple of blocks from work. Sate beef with vermicelli and spring rolls makes for a very satisfying meal. One of my favorite things to eat at home are the Shrimp Salad Rolls. It is the easiest thing to make and, you can have the perfect appetizer or snack in minutes.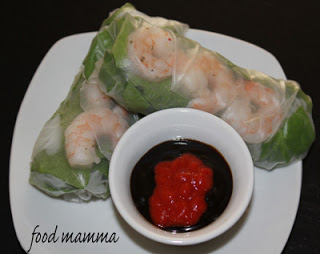 Shrimp Salad RollsCooked shrimp, approximately 3 per rolls
Rice wrappers
Cooked vermicelli
Mint
Lettuce or Spinach
Place the rice wrapper in a bowl of warm water until soft and transparent. Line up 3 shrimp in the middle followed by a mint leaf, greens and vermicelli. Fold in the two ends and roll.
Serve with hoisin sauce and Sriracha chili sauce.