In a recent episode of Food Network's "The Best Thing I Ever Ate", snacks craved by food personalities were featured. Giada's favorite snack were the bar nuts at Union Square Cafe in New York. The hot nuts featured on the show looked so delicious, I started searching for the recipe. Luckily, Nigella Lawson featured the nuts in her show Nigella Bites a couple of years ago, and the recipe was easily accessible. Instead of using a mix of nuts, I used one of my faves, almonds. The scent of these nuts mixed with the rosemary and spices filled the house and we couldn't wait for them to be cooled before devouring them. This delicious snack appeals to all as it satisfies any craving – salty, sweet, spicy, savoury. My only advice is that you make lots!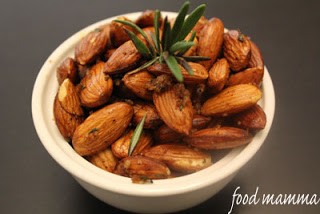 Union Square Cafe's Bar Nuts
2 1/4 cups nuts
2 TB coarsely chopped fresh rosemary
1/2 tsp cayenne pepper
2 tsp brown sugar
2 tsp sea salt
1 TB butter, melted
Preheat the oven to 350 degrees F.
Toss the nuts in a large bowl to combine and spread them out on a baking sheet. Toast in the oven until light golden brown, about 10 minutes.
In a large bowl, combine the rosemary, cayenne, sugar, salt and melted butter.
Thoroughly toss the toasted nuts in the spiced butter and serve warm.