A couple weeks ago, we went to sin city and had a fabulous few days there. It was a nice break and we enjoyed some quality family time. On our last day there, we stopped for some mint chocolate chip ice cream. It was the worst mint ice cream I have ever had! When we got home, I was happy to find some cream in the fridge and found my easy recipe for one of our favorite flavours.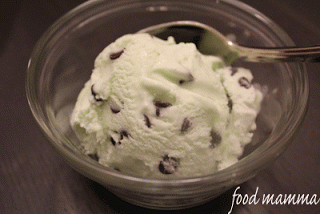 Mint Chocolate Chip Ice Cream
1 cup milk
2/3 cup sugar
2 cups cream
1 tsp vanilla
1.5 tsp mint extract
3 drops green food coloring
1/2 cup mini chocolate chips
Dissolve the sugar in the milk. Add the rest of the ingredients (except the chocolate chips) and chill the mixture for an hour. Follow the directions of your ice cream maker. Add the chocolate chips in the last ten minutes. Enjoy!