Shrimp is a staple in our home. It thaws easily and cooks quickly, it's the perfect thing to pull out and make a quick meal with. We had family bringing dinner over (lucky us!) but I still wanted to make an appetizer. My fridge was stocked with peppers and onions and I thought this would be the perfect quick snack to make. Hubby loved them and even raved about them to our massage therapist – always a good sign. Can be served with roasted red pepper dip or garlic aioli.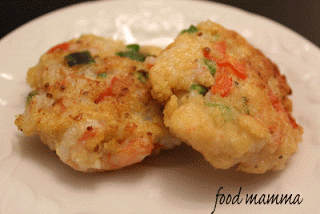 Shrimp Cakes
Makes 12 1 pound raw shrimp, peeled and deveined
3 green onions, chopped
1 red pepper, chopped
1 egg
1 TB dijon mustard
salt
pepper
breadcrumbs
In a food processor, coarsely chop the raw shrimp. Transfer to a bowl and add the veggies, egg, mustard, salt and pepper. Add breadcrumbs, a little at a time, until the mixture can be formed into patties. Refrigerate the patties for about 5 to 10 minutes. Pan fry the shrimp cakes until shrimp is cooked and each cake has a nice brown crust.