It was a wonderful Christmas. My sister who had been stuck in Europe because of all the flight cancellations finally made it here with her fiance. Although time with them will be short, we are so lucky to be spending the next few days with them.
Around here, a fave of ours during the holidays is candy cane bark. With two layers of chocolate topped with crunchy candy canes, it's a winning combination.
Hope everyone's Christmas was as sweet as ours!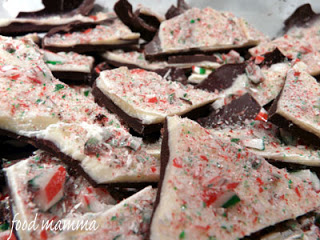 Candy Cane Bark
1 cup dark chocolate
1 cup white chocolate
5 candy canes, crushed
Melt the dark chocolate and spread a layer on parchment placed on a cookie sheet. Refrigerate until cooled. Melt the white chocolate and place on top of the dark chocolate. While still warm, sprinkle with crushed candy canes. Once hardened, break into pieces.