When we were younger, my sister and I loved it when my mom made desserts with condensed milk. We couldn't wait to get our share of the sweet liquid. Sometimes we would open up a can and eat it like pudding. One of my favorite things to do with condensed milk is to make these squares. Very similar to Eagle Brand's Magic Cookie Bars, these are even more sinful with a chocolate crust.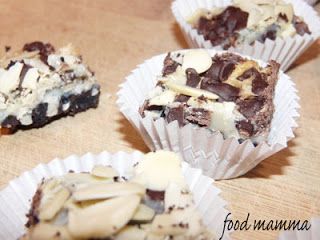 Sinful Chocolate Squares
1 1/2 cups chocolate cookie crumbs
1/2 cup margarine, melted
1/2 can sweetened condensed milk (plus a little more for licking!)
1 cup chocolate chips
2/3 cup flaked coconut
1/2 cup almonds
Combine the crumbs and margarine and and press into the bottom of an 8″ x 8″ dish. Pour the condensed milk over the crumbs followed by the chocolate, coconut and almonds. Bake at 350 degrees for 30 minutes.