Well, it's that time of year. Time for Christmas parties and tons of baked good. We may not celebrate Christmas religiously but we do celebrate the holiday season with close friends and family.
Baking this year started off with the simplest of cookies. Made with only 2 ingredients, Palmiers are puffs of buttery sugary dough baked until golden. They look quite fancy, people will never guess they take only minutes to prepare.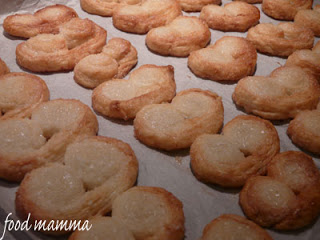 Palmiers
1 box of puff pastry
Sugar
Unroll one sheet of puff pastry. Sprinkle generously with sugar. Roll the pastry from the horizontal ends into the middle. Refrigerate for 10 minutes and then cut the roll into pieces. Sprinkle each piece with sugar and place on parchment paper. Bake at 350 degrees for 10 to 15 minutes.