Red lentil curry is one of our new favorite dishes. This hearty meal is perfect after a weekend filled with meat. I'm not sure if the best part is that it's healthy or that it takes less than half an hour to make. It also passed the Q test. He ate this curry alongside some homemade yogurt and devoured it. Both my mom and aunt have made this dish so I snagged the recipe last week. A perfect dish for Meatless Monday.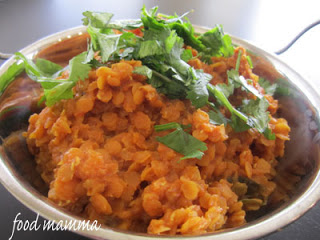 Red Lentil Curry
1 cup red lentils
2 curry leaves
3 TB crushed tomatoes
1 tsp coriander powder
1 tsp cumin powder
1/2 tsp salt
1/4 tsp turmeric
1/2 cup water
cilantro
Soak the lentils while you heat the pan. In a saucepan, heat some oil and add 2 curry leaves. Add the tomatoes, and spices and cook for a couple of minutes. Drain the lentils and add to the tomato mixture along with 1/2 cup water. Let cook until the lentils are cooked, approximately 20 minutes. Check the water level after ten minutes, and add more if it has evaporated. Sprinkle with cilantro and serve with warm chapati.