It's convocation day!! Hubby is getting his Masters today! S has worked hard for this degree. It took a few years, with him squeezing it in while working many hours at a demanding job. He also had a baby at home wanting to play and a wife wanting some attention too. It was hard work, with sleepless nights, so this calls for some celebration. As with any milestone, cake is definitely in order!
I think this might be my new favorite cupcake recipe. It's Martha Stewart's One-Bowl Chocolate Cupcakes. No need to separate the dry ingredients from the wet and they were ready in 20 minutes! I didn't have buttermilk so I substituted that with yogurt mixed with some water and I used canola oil rather than safflower.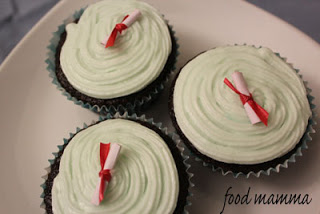 One-Bowl Chocolate Cupcakes
3/4 cup unsweetened cocoa powder
1 1/2 cups all-purpose flour
1 1/2 cups sugar
1 1/2 teaspoons baking soda
3/4 teaspoon baking powder
3/4 teaspoon salt
2 large eggs
3/4 cup warm water
3/4 cup buttermilk
3 tablespoons safflower oil
1 teaspoon pure vanilla extract
Preheat oven to 350 degrees. Line standard muffin tins with paper liners; set aside. Sift together cocoa powder, flour, sugar, baking soda, baking powder, and salt into a large bowl. Add eggs, warm water, buttermilk, oil, and vanilla, and mix until smooth, about 3 minutes. Scrape down the sides and bottom of bowl to assure batter is well mixed.

Divide batter evenly among muffin cups, filling each 2/3 full. Bake until tops spring back when touched, about 20 minutes, rotating pan once if needed. Transfer to a wire rack; let cool completely.