When putting together the menu for hubby's party, he requested tabouli for the salad course. Tabouli is a popular salad in the Middle East predominantly made with bulgar wheat and parsley. When searching for a recipe, there were so many variations! I finally settled on one from Guy Fieri, from one of the drive-ins he visited for his show, "Diners, Drive-ins and Dives".
This was a refreshing salad and it provided not only a refreshing side for our arabian feast but also a great leftover lunch.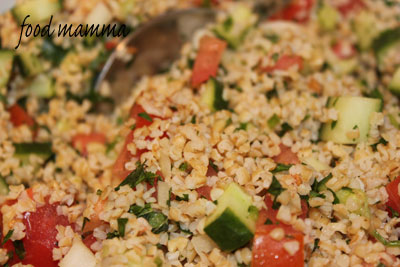 Tabouli1 cup water
1 cup fine cracked wheat
1 cup minced fresh parsley leaves
1/2 cup minced fresh mint leaves
1/2 cup finely chopped yellow onion
3 tomatoes, diced
2 cucumbers, seeded and diced
3 tablespoons olive oil
3 tablespoons lemon juice, or to taste
1 teaspoons sea salt
In a large mixing bowl, pour the water over the cracked wheat and cover, let stand about 20 minutes until wheat is tender and water is absorbed. Add the chopped herbs and vegetables and toss with the mix. Combine the oil, lemon juice, and salt in a separate bowl. Add to wheat mixture and mix well. Chill. Serve and enjoy.