One of my favourite things to order when out with friends is spinach and artichoke dip. The warm dip and the ooey gooey cheese just begging to be picked up with a tortilla chip. Mmmm. What better opportunity to try making this dip than for our appetizer party. I searched for a recipe online and was drawn to this one since it was a lighter version. With all that cheese, one would never know that it was a healthier option. The dip was a hit, even with the kids. Also turned out to be a great late night snack!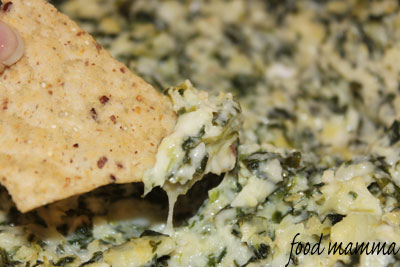 Hot Spinach and Artichoke Dip
Adapted from Gina's Skinny Taste
1 can artichokes, drained
1 pkg frozen spinach, thawed and squeezed
1 small onion, chopped
1 heaping TB minced garlic
1/2 cup greek yogurt
1/2 cup mayo
2/3 cup parmesan
1 cup mozzarella
salt
pepper
Preheat oven to 375°.
In a small food processor, coarsely chop the artichoke hearts with the garlic and onions.
Combine all the ingredients in a medium bowl. Place in an oven-proof dish and bake at 375° for 20-25 minutes, until hot and cheese is melted. Serve hot.