It's exactly two months until my sister gets married! We are super excited for her big day so she can marry the love of her life.
A huge part of an Indian wedding is the food. With lots of people traveling for the wedding, it's nice to have snacks around, like chevdo. Chevdo is an indian snack mix, mostly filled with fried lentils and peanuts. With my sister's allergies, this is something she has had to stay away from.
I was intrigued when I saw Aarti Sequeira's recipe for chevdo that had no chickpeas. The peanuts were easily replaced and it made for a dish that my sister can actually enjoy. I knew I had to give this recipe a try. I made an addition of coriander seeds, which added a lemony taste to the mix. I still had some Christmas Rice Krisipies left which added some fun colour with flecks of red and green.
Looking forward to my sister's return so that she can finally try some chevdo.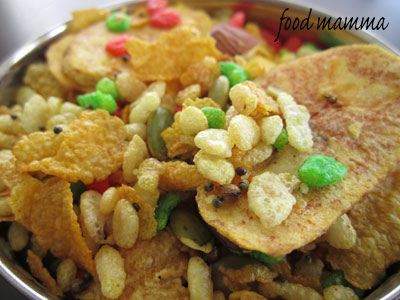 Chevdo
Adapted from Aarti Sequeira of Aarti Party.
2 cups Corn Flakes
2 cups Rice Krispies
1/4 cup almonds, halved
1/4 cup pumpkin seeds
2 TB oil
1 tsp black mustard seeds
1 tsp coriander seeds
5 dried curry leaves
1/2 tsp turmeric
1/2 cup plantain chips
salt
In a large pan over medium heat, toast the cereals, pumpkin seeds and almonds for about 2 minutes. Remove from the pan.
Warm the oil in the same pan over medium heat. Add the mustard seeds, coriander seeds, curry leaves and turmeric. Cook for 30 seconds and remove from the heat.
Add the cereal mixture and plantain chips. Season with salt and toss until combined.