We were lucky to get some home grown zucchini from hubby's co-worker this year. The possibilities of things to make with them were endless – bread, fritters, pasta…What I really wanted though was chocolate zucchini bread. I searched for a recipe but most called for canola oil, which we had totally run out of. I was happy when I found a recipe from Tara from seven spoons. I loved that the recipe called for so much zucchini – what a great vehicle for eating your veggies! Q has become a little nut monster lately so he got to pick what we used. His nut of choice for the bread – pecans. This bread was so good, it didn't last long at all. It was amazing with a tall glass of milk. Q loved it and I was happy for him to have seconds because of all the greens that were baked in. The last batch of the zucchini went into two more loaves today. So good! Thanks T for the zucchini and thanks Tara for the great recipe.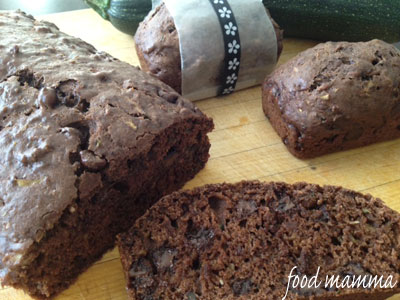 Chocolate Zucchini Bread
adapted from seven spoons
3 cups all-purpose flour
1/2 cup cocoa powder
1 tsp baking powder
1 tsp baking soda
1 1/2 tsp salt
1 cup chopped pecans
1 cup chocolate chips
1/2 cup olive oil
1 cup buttermilk
2 eggs
1 1/2 cups sugar
2 tsp vanilla extract
4 cups shredded zucchini
Preheat an oven to 350°F (175°C) and grease two loaf pans.
In a large bowl, whisk together the flour, cocoa powder, baking powder, baking soda and salt. Stir in the nuts and chocolate. Set aside.
In another bowl, whisk together the olive oil and buttermilk. Add the eggs, sugar and vanilla, and beat until smooth. Stir in the zucchini.
Pour the wet ingredients into the dry, stir until combined, taking care not over mix. Divide the batter evenly between the two prepared pans and bake, rotating once, until a cake tester inserted into the loaf comes out almost clean, which should be around 50 minutes. Cool loaves in their pans on a rack for 20 minutes.