We had a small family get together at my sister-in-law's new place last weekend. When we got the invite from her and her hubby, I offered to make dessert, and cheesecake automatically popped into my mind. It had been a long time since I had eaten cheesecake, let alone made it. Q decided we should make chocolate and I willingly obliged.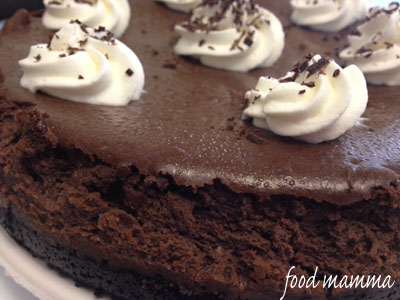 It was a great afternoon with spending time with family and eating good food. Both the kids and the adults kept themselves busy carving pumpkins. The seeds were scooped and roasted making them a perfect snack to go along with all the carving.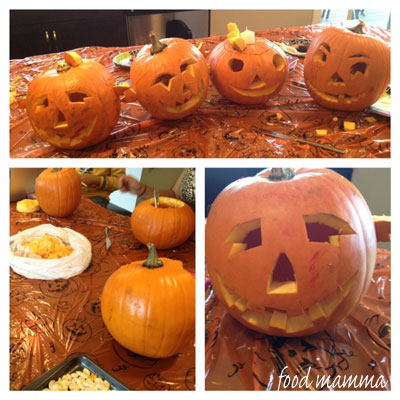 I found this recipe on the Hershey's website. I didn't have enough chocolate cookie crumbs so mixed them with graham crumbs and it worked out just fine. The cheesecake was a hit. This can be made into one big cheesecake or mini ones made in cupcake tins.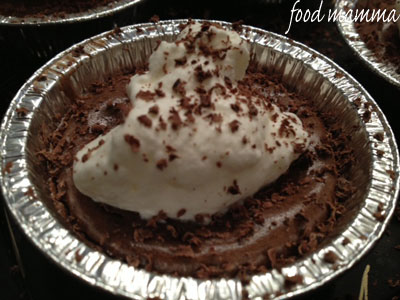 Chocolate Cheesecake
Adapted from Hershey's
1.5 cups chocolate cookie crumbs
6 TB melted butter
1/4 cup butter or margarine
2 packages softened cream cheese
4 eggs
1/2 cup cocoa
1 can condensed milk
1 TB vanilla
Add the melted butter into the crumbs and blend well. Press mixture into bottom of 9″ springform pan.
Melt the butter and mix with cocoa until smooth. Set aside.
Beat cream cheese. Add cocoa mixture and mix well. Gradually beat in condensed milk until smooth. Add eggs and vanilla and beat well. Pour batter into pan prepared with the crumb crust.
Bake at 300 degrees for 1 hour and 5 minutes or until set. Let cool and garnish with whipped cream and chocolate.