You know those nights you just can't sleep. That was me a couple of weeks ago. I decided to put my time to good use and instead of lying in bed, I got up at 5 am, determined to bake. Q needed a preschool snack anyways and with a pint of blueberries in the fridge, I knew it had to be fruity.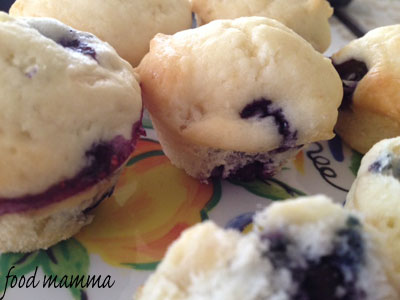 I was happy to have found this recipe from Paula Deen which allowed me to make up a batch of mini muffins without turning on my mixer and waking everyone up. I took a bit of batter out for Q's muffins for school and added some almonds in the rest. I also skipped the extra sugar on top.
These were perfect for breakfast and my little guy was happy to have them for school. The little size were perfect for his little hands.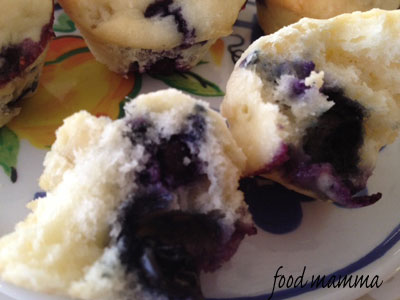 Blueberry Muffins
Adapted from Paula Deen, Food Network
1 cup all-purpose flour
1 tablespoons baking powder
1/4 cup sugar
1/2 stick butter, melted
1 small egg, slightly beaten
1/3 cup milk
1 cup fresh blueberries
1/2 cup slivered almonds
Preheat the oven to 350 degrees F. Grease a mini muffin tin.
In a bowl, combine the flour, baking powder and sugar. In another bowl, combine butter, egg, and milk and mix well. Pour the wet ingredients into the flour mixture and with a spatula, stir until just combined. Do not beat or over mix; it's okay if there are lumps in the batter. Gently fold the blueberries into the batter.
Spoon the batter into the muffin tray, filling each cup about 2/3 full. Bake for 20 to 25 minutes, until the tops are golden brown and a toothpick inserted into the center of a muffin comes out clean. Cool for about 10 minutes in the pan before turning the muffins out. Makes 24.